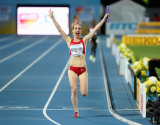 December 19, 2015
I'm really, really proud of what I've accomplished. I'm so fortunate to have had such a successful year.
From Spikes powered by IAAF
Over the last seven years Shannon Rowbury has been one of the USA's most consistent middle distance performers. In 2015 she proved herself as one of the best...
Read More
comments