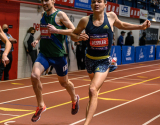 February 04, 2022
"I honestly believe the main reason why the Mile has sustained its status in America compared to all the other countries is because... everyone has a reference point. And that's a big deal in sports."
By Martin Fritz Huber, Outside
Last Saturday, while competing in the Wanamaker Mile at the...
Read More
comments