The Best Mile Moments of 2015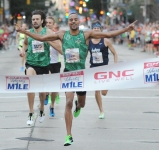 December 30, 2015
Two HSers go sub-4, record annual first sub-4 for U.S. men, NCAA coaches vote YES to run the Mile again at outdoor Championships, $365,000-plus record prize money, BBTM Grand Prix Tour and more highlight year for storied distance
By Ryan Lamppa, Bring Back the Mile
To say the least, it was another noteworthy, historic year for the Mile. Over the past 4 years, the Mile has seen heightened coverage, interest and "buzz" due to the BBTM campaign, the athletes, the events and other Mile maniacs who have helped to elevate and celebrate the storied distance.
Like recent years, there were numerous Mile highlights and moments in 2015 and it is virtually impossible to select a top 10. Below is a summary and chronological order of the year for the Mile, and February 14, Milepalooza, was a particularly special day for the distance in America.
FAST FACTS
Mile event prize money impressively grew 23% from $367,215 in 2015 vs. $297,510 in 2014 with a 165% increase since 2012 ($138,750).
There were at least 20 new Miles launched in 2015 including three with prize money exceeding $8000: Boxcar, HOKA ONE ONE Long Island and The Navy Mile races.
For the first time, two U.S. high school boys broke 4 minutes in the same year – bravo!
Also for the first time, the IAAF accepted Mile times for 1500 meter qualifying for the outdoor World Championships, Beijing 2015.
An annual record of 24 U.S. men recorded their first sub-4 minute Mile in 2015; previous record was 23 in 2012 and 2013.
For the 10th consecutive year, the first sub-4 U.S. number again reached double digits.
Seven U.S. women also ran their first sub-4:30 Mile in 2015, the second most ever (record 8 in 2014).
Worldwide, 113 men went sub-4 and 62 U.S. men hit sub-4, the most over the past 4 years.
For the year, Ford Palmer (USA) produced the most sub-4s with 5, while Shannon Rowbury (USA) the most sub-4:30s, also with 5.
The second Bring Back the Mile Grand Prix Tour featured 4 top U.S. Mile races with overall prize money exceeding $85,000, and Jack Bolas and Heather Kampf defended their grand prix titles.
Carolina in My Mind – January 31
The 3rd Camel City Elite Mile at the JDL Fast Track in Winston-Salem produced incredible performances as 2013 event champion Cory Leslie and two-time Olympian Shannon Rowbury set North Carolina indoor and absolute state records, clocking 3 minutes, 56.99 seconds and 4:22.66 respectively. Rowbury's mark was the fastest indoor Mile by a woman since 2000 and the fastest Mile the year to-date and also made the Duke grad the 5th fastest woman indoors all-time and 3rd U.S. woman all-time under the roof.
Boston Indoor Mile Magic – February 7
At the New Balance Indoor Grand Prix in Boston, Nick Willis not only won the Mile race in convincing fashion, but the 2008 Olympic 1500m silver medalist also produced the fastest time to-date in 2015, and moreover, set meet and New Zealand indoor records with his 3:51.61 clocking (previous NZL mark, 3:52.8 by John Walker in 1981 and 1982). American Ben Blankenship finished runner-up in 3:53.13, his track PR. In addition, Willis' performance made him the 10th fastest Miler indoors all-time, while Blankenship is now the 8th fastest American indoors.
A Day of Mile Magic across America – February 14
Milepalooza 2015 showcased the appeal and excitement of the storied distance and was, in totality, one of the greatest days in Mile history, particularly indoors, a day of Mile magic and "love" across America on Valentine's Day.
On the day, there were staggering 36 sub-4 minute Miles clocked, the most ever in one day; the previous record was 29 on February 11, 2012, and overall, 25 Americans, 3 Canadians, 3 Britons, 2 Kenyans, 2 New Zealanders and 1 Norwegian broke the coveted sub-4 mark in six races at 4 different venues and nine Americans also recorded their first sub-4s.
BU David Hemery Valentine Invitational, Boston, MA = 12 sub-4s, two heats (second highest indoors at the same day, same meet); also at the same meet, 1992 U.S. Olympian John Trautmann, 46, set the indoor and absolute 45-49 age group Mile world record with his 4:12.33, and four fellow Georgetown athletes ran sub-4 in the same heat.
NYRR Millrose Games Wanamaker Mile, New York, NY = 10 (second most indoors in the same race) including world leading 3:51.35 by Matthew Centrowitz
Iowa State Classic, Ames, IA = 8, two heats
Husky Classic, Seattle, WA = 6 led by Montana State Cristian Soratos' NCAA leading and personal record 3:55.27.
Beyond the incredible sub-4 blitz displayed above, Milepalooza 2015 excitement continued at the 108th Millrose Games Wanamaker Mile in New York City where:
Women's winner Shannon Rowbury gamely went for the long-standing U.S. indoor record (4:20.5), but slowed in the final lap to still produce the second fastest Mile year-to-date, 4:24.32 (she has the #1 time too, 4:22.66).
Five women also broke 4:30: Rowbury, Treniere Moser (4:27.49), Stephanie Charnigo (4:28.02), Jordan Hasay (4:28.27) and Morgan Uceny (4:28.39); and 8 of 10 women set indoor personal records.
Men's runner-up Nick Willis broke his week-old New Zealand indoor record with a 3:51.46, nearly catching Matthew Centrowitz at the line.
The evergreen Bernard Lagat, 40, shattered the Masters world record with his 3:54.91, the fastest Mile ever run by an athlete 40 & older, indoors or outdoors (an absolute Masters WR), and the 8-time Wanamaker Mile champion also finished 4th overall against a world class field.
A near record 10 men went sub-4 in the same indoor race (record is 11 at the Boston Indoor Games 2006) and 6 of those 10 men set indoor PRs.
To cap the night of Mile magic in Gotham, John "Johnny" Gregorek, Jr., who finished 10th in 3:57.47, joined his father in the sub-4 club, and moreover, they became the 8th father / son combo to enter an even more select sub-4 group.
Put simply, the Day of Mile Magic across America left BBTM breathless and inspired by the Mile's renaissance, and the best is yet to come for the Mile!
NCAA Indoor Championships – March 14
Leah O'Connor (Michigan State) ran hard from the gun to win the women's 2015 NCAA Indoor Mile crown in a championship meet record of 4:27.18, while with a 4:28.71 clocking runner-up Shelby Houlihan (Arizona State) also was under the previous record of 4:29.72 by Sarah Bowman (Tennessee) in 2009.
New Balance Indoor Nationals – March 14
Michigan's Grant Fisher sets meet record with 4:03.54 despite a stumble with 50 meters left.
World Relays – May 2-3
At the second World Relays hosted by the Bahamas, U.S. Milers Shannon Rowbury and Ben Blankenship anchored Team USA to not only gold medals, but also world records in the Distance Medley Relay (1200m, 400m, 800m, 1600m): 10:36.50 (shattered WR by 6 seconds) and 9:15.50, respectively. Milers Treniere Moser and Kyle Merber also led off the first Team USA legs. Brava and bravo, Shannon & Treniere and Ben & Kyle!
Oregon Twilight Meet – May 8
Summit High School senior Matthew Maton (left), 19, from Bend, OR clocked a 3:59.38 Mile to finish third overall at the Oregon Twilight Meet in Eugene, but moreover, he became only the sixth U.S. high school boy to enter the Sub-4 Club, joining Jim Ryun (1964), Tim Danielson (1966), Marty Liquori (1967), Alan Webb (2001) and Lukas Verzbicas (2011).
Nike Festival of Miles – June 4
In St. Louis, Grant Fisher (right) from Grand Blanc, MI became just the 7th U.S. high school boy to break 4 minutes for the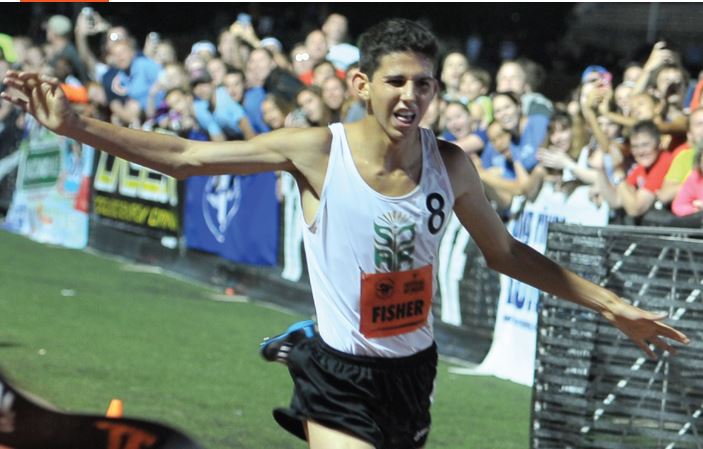 Mile. His 3:59.38 ties Matthew Maton (2015) as the third fastest U.S. HS Miler ever, and for the first time, two U.S. high school boys went sub-4 in the same year. Overall, Fisher, 18, finished third overall behind Jordan McNamara, who won his third FOM title (3:58.81), and Tyler Pennel (3:58.99).
Girls adidas Dream Mile – June 13
At the girls adidas Dream Mile on a warm day in New York City, Christina Aragon from Billings, MT beat Ryen Frazier, Raleigh, NC, 4:37.91 vs. 4:38.59, both set State records, and Aragon, the daughter of Chuck Aragon (a sub-3:52 Miler), also established a meet record. Overall, six girls, including the top 4, set personal records.
The Best Metric Mile Day EVER – July 17
At the Diamond League Herculis meet in Monaco, the metric Mile saw its best day ever as both women's and men's races were breathtaking and jaw-dropping. Genzebe Dibaba of Ethiopia closed with a sub-60 second final lap to break the long-standing women's 1500 meter world record, clocking a surreal 3:50.07, while Shannon Rowbury finished third in 3:56.29 to break Mary Slaney's 32-year-old U.S. record and fellow U.S. Olympian Jenny Simpson followed in fourth (3:57.30); overall, six women broke 4 minutes.
The men's 1500 race was nearly as impressive as Olympic and two-time world champion Asbel Kiprop of Kenya destroyed the field with a sub-55 second final lap and broke the beam in 3:26.69 (#3 individual all-time behind Hicham El Guerrouj and Bernard Lagat). Overall, ten men broke 3:31 including Matthew Centrowitz who placed 10th in 3:30.40 (#3 U.S. individual all-time behind Lagat and Sydney Maree).
In a word, and without hyperbole: epic!
Emsley Carr Mile: American Men Shine – July 25
At the Sainsbury's Anniversary Games London Diamond League meet, U.S. men shone at the historic Emsley Carr Mile by taking top placements led by runner-up Matthew Centrowitz (3:55.03), followed by Ben Blankenship 5th (3:55.48), Leo Manzano 8th (3:55.67) and the ageless Bernard Lagat 13th (3:57.91). Lagat's performance set a Masters (40 & older) outdoor world record, and in addition, the multi-Olympic and World Championships medalist is now the only Master (40 & older) to run sub-4 indoors and outdoors.
GNC Live Well Liberty Mile – July 31
At the 4th GNC Live Well Liberty Mile on a warm, humid Friday evening in downtown Pittsburgh, two common faces in the Steel City and to this event, Heather Kampf and Jordan McNamara won their American Development Pro races in 4:33 and 3:59, respectively. Kampf, 28, won her third Liberty Mile crown (also 2012-13), while McNamara, 28, defended his title and also tied the event record set by Craig Miller in 2012.
With the win, Kampf, Queen of the Road Mile, also locked up and defended her BBTM Grand Prix Tour title with 26 points.
Sir Walter Miler – August 8
At the second edition of the Sir Walter Miler in Raleigh, NC, with 2,000 rabid fans, many on the Meredith College track, Robby Andrews won the race in 3:57.38 to lead four other men under 4 minutes including first-timers Lex Williams (3:59.40) and Brandon Hudgins (3:59.67). Steeplechaser Stephanie Garcia clocked 4:28.84 to set a North Carolina outdoor Mile record and two U.S. women also joined Garcia in the exclusive Sub-4:30 Club: Amanda Eccleston (4:29.06) and Heather Wilson (4:29.39), U.S. #58-60.
Inaugural HOKA ONE ONE Long Island Mile – September 9
Kyle Merber, a 3:53 Miler, co-founded the inaugural HOKA ONE ONE Long Island Mile to great success. The Friday evening track event had several heats ending with the professional Miles. With several thousand engaged fans in the stands and on the track, David Torrence took the men's race in 3:53.91 followed closely by Garrett Heath (3:54.51). Overall, 7 men went sub-4 minutes including Merber who clocked 3:58.38 for third. Amanda Eccleston won the women's Mile in 4:29.99 with fellow rising star Kerri Gallagher runner-up (4:30.24).
Memorial van Damme meet brings back the women's Mile! – Sept 11
A rare international women's Mile was contested at the AG Insurance Memorial van Damme meet in Brussels, Belgium and it did not disappoint as two women went sub-4:20, Faith Kipyegon (KEN), 4:16.71 and Sifan Hassan (NED), 4:18.20. Kipyegon tied Mary Slaney as the 4th fastest woman all-time, while Hassan also set a national record. Americans Shannon Rowbury and Jenny Simpson finished third (4:22.10) and fourth (4:22.18), respectively, with Simpson now #5 U.S. woman all-time. Brava!
Day of Miles – September 13
At the 9th Minnesota Mile, the BBTM Grand Prix Tour 2015 finale in Duluth, Jack Bolas, 27, of High Bridge, NJ, and Gabriele (Gabe) Grunewald, 29, of Minneapolis won decisively, clocking 4:07 and 4:38, respectively, into a stiff headwind on the point-to-point course. Bolas also defended his title in the Bring Back the Mile Grand Prix Tour 2015 with 16 points to win an additional $2000, while Grunewald placed second in the GP Tour with 18 points and earned an additional $1000.
At the 35th NYRR 5th Avenue Mile, American Jenny Simpson and New Zealander Nick Willis earned their fourth and third titles, respectively. Both Olympians used late kicks to pull away from their international competition, breaking the tape in 4:29.0 and 3:54.8. For Simpson, it was an event record 4th women's title (also 2011, 2013-14) as the three-peater edged rival Shannon Rowbury who clocked 4:29.3. Twelve men also went sub-4, while three women hit sub-4:30.
The inaugural Oak City Mile, launched in Raleigh, NC, added to the Mile calendar, and the USATF North Carolina State Championship was won by Isaac Presson and Andie Cozzarelli in 4:24 and 4:58, respectively.
NCAA coaches vote YES to bring back the Mile to its outdoor Championships – December 18
At the U.S. Track & Field and Cross Country Coaches Association (USTFCCCA) Convention in San Antonio, a proposal by Coach Eric Houle, Southern Utah University, to bring back the Mile to NCAA Outdoor Championships passed 221-169 (17 abstained). Oh Happy Day! In 2011, a similar proposal failed badly, 47 for, 214 against and 8 abstained. In early 2016, the NCAA will vote on this proposal for NCAA Outdoor Track & Field.
Wow, what a year for the Mile, and more to come in 2016!