JDL Fast Track races with top U.S. indoor meets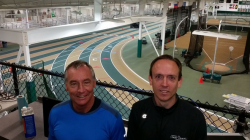 January 26, 2016
"If you build it, they will come." - Shannon Rowbury, two-time Olympian, who is returning to defend her Mile title
By Eddie Wooten, News & Record
When Tiger Woods played in Greensboro's Wyndham Championship for the first time in August, he gushed about the small-town feel of the event and the love fans heaped upon him.
"I'm having a good time," he said. "The people are so nice and supportive. It's just a lot of fun to play in front of them."
Asked whether he would return, Woods was succinct and sincere:
"I would love to."
Some of the same kind of Triad hospitality that won the heart of the golf great is also luring Olympians to return – and bring fast and famous friends such as Ashton Eaton and Lolo Jones with them – for the Camel City Elite indoor track & field meet on Saturday at JDL Fast Track in Winston-Salem. Athletes will make appearances at a Winston-Salem elementary school, sign autographs on Friday, mingle with fans at the meet, then sit down in the evening to eat North Carolina barbecue and fried chicken with sponsors inside the home of track facility owner David Shannon.
Continue reading at: greensboro.com