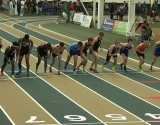 February 01, 2017
How a local runner—and an NCAA ruling—made the JDL Fast Track a winter haven for track athletes near and far.
By Chris Gigley, Winston-Salem Monthly
Winston-Salem and track athletes all over the state are lucky David Shannon loves to run and hates the cold. JDL Fast Track wouldn't exist if he...
Read More
comments