A Select Group: Only 33 men have gone sub-4 and sub-2:10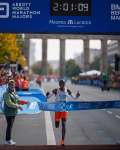 October 08, 2023
Two-time Olympic Marathon champion Eliud Kipchoge fastest official Mile-marathon combined time; six Americans: Brian Shrader, Martin Hehir, Galen Rupp, Alan Culpepper, Ken Martin & Greg Meyer members of rare club; Meyer the first member
By Bring Back the Mile
EDITOR'S NOTE: This article has been updated from the original September 2014 article with 20 sub-4 / sub-2:10 club members.
With the fall marathon season in full swing, it is a good time to present an exclusive group of runners, blessed with speed & endurance, who have broken two respected benchmarks: 4 minutes for the Mile and 2 hours, 10 minutes for the marathon; a group so select that only 33 men are club members. Two-time Olympic Marathon champion Eliud Kipchoge of Kenya (above, credit: NN Running Team) has the fastest official combined times: 2:04:59.40 (3:50.40 Mile and 2:01:09 marathon, world record, Berlin 2022).
Kenya has the most members with ten, and the United States, tied with Ethiopia, has six men – Brian Shrader, Martin Hehir, Galen Rupp, Alan Culpepper, Ken Martin and Greg Meyer – who have achieved this noteworthy milestone; in 1983, Meyer became the first member overall of this unique club. Rupp owns the fastest U.S. combo of 2:09:57.92 (3:50.92 and 2:06:07).
Below are the known 33 sub-4 / sub-2:10 men in fastest Mile PR order as of October 8, 2023:
| FIRST | LAST | CTZ | MILE | YEAR | MARATHON | YEAR |
| --- | --- | --- | --- | --- | --- | --- |
| Leonard | Muchero Maina | KEN | 3:49.75 | 2001 | 2:08:53 | 2011 |
| Eliud | Kipchoge (best) | KEN | 3:50.40 | 2004 | 2:01:09 = WR | 2022 |
| Yenew | Alamirew | ETH | 3:50.43 | 2011 | 2:08:56 | 2018 |
| Suleiman | Simotwo | KEN | 3:50.82 | 2005 | 2:08:49 | 2015 |
| Galen | Rupp (U.S. best) | USA | 3:50.92i | 2013 | 2:06:07 | 2018 |
| Suleiman | Nyambui | TAN | 3:51.94 | 1981 | 2:09:52 | 1989 |
| Haile | Gebrselassie | ETH | 3:52.39 | 1999 | 2:03:59 = WR | 2008 |
| Hailu | Mekonnen | ETH | 3:53.40 | 2000 | 2:07:35 | 2011 |
| Rod | Dixon | NZL | 3:53.62 | 1975 | 2:08:59 | 1983 |
| Josphat | Kiprono Menjo | KEN | 3:53.62 | 2010 | 2:09:34 | 2013 |
| Zane | Robertson | NZL | 3:53.72 | 2014 | 2:08:19 | 2019 |
| Dawit | Wolde | ETH | 3:54.02i | 2016 | 2:04:27 | 2021 |
| Geoffrey | Rono | KEN | 3:54.37 | 2010 | 2:09:29 | 2016 |
| Vincent | Rousseau | BEL | 3:54.69 | 1985 | 2:07:20 | 1995 |
| Cam | Levins | CAN | 3:54.74i | 2015 | 2:05:36 | 2023 |
| Alan | Culpepper | USA | 3:55.12 | 1998 | 2:09:41 | 2002 |
| Geoff | Smith | GBR | 3:55.80 | 1981 | 2:09:08 | 1983 |
| Nicholas | Kemboi | KEN | 3:56.19 | 2011 | 2:08:01 | 2011 |
| Kenenisa | Bekele | ETH | 3:56.2i+ | 2007 | 2:03:03 | 2016 |
| Mo | Farah | GBR | 3:56.49 | 2005 | 2:05:11 | 2018 |
| Benson | Seurei | BRN | 3:56.78 | 2013 | 2:07:37 | 2018 |
| Christoph | Herle | GER | 3:57.52 | 1978 | 2:09:23 | 1985 |
| Ken | Martin | USA | 3:57.84 | 1981 | 2:09:38 | 1989 |
| Robert | Stefko | SVK | 3:58.20 | 1998 | 2:09:53 | 1998 |
| Paul | Tergat | KEN | 3:58.4+ | 1996 | 2:04:55 = WR | 2003 |
| Brett | Robinson | AUS | 3:58.5 | 2017 | 2:09:52 | 2022 |
| Shem | Kororia | KEN | 3:58.8+ | 1996 | 2:09:32 | 1999 |
| Greg | Meyer (the first) | USA | 3:59.1i | 1978 | 2:09:00 | 1983 |
| Girma | Bekele | ETH | 3:59.41 | 2013 | 2:08:38 | 2019 |
| Brian | Shrader (new) | USA | 3:59.41i | 2018 | 2:09:46 | 2023 |
| Vincent | Rono | KEN | 3:59.63 | 2007 | 2:07:10 | 2019 |
| Mbarak | Hussein | KEN | 3:59.66 | 1991 | 2:08:10 | 2004 |
| Martin | Hehir | USA | 3:59.81i | 2015 | 2:08:59 | 2020 |
+ = en route to longer race; i = indoors
SOURCE: Peter Larsson (SWE) and Bring Back the Mile
Send updates for review to: milemaniac@bringbackthemile.com