America's Fastest: Shannon Rowbury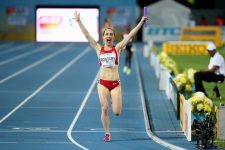 December 19, 2015
I'm really, really proud of what I've accomplished. I'm so fortunate to have had such a successful year.
From Spikes powered by IAAF
Over the last seven years Shannon Rowbury has been one of the USA's most consistent middle distance performers. In 2015 she proved herself as one of the best the country has ever produced. We speak to the American 1500m record holder about the fastest year of her career.
Shannon Rowbury is happy to be back training. SPIKES speaks to the American shortly after her return from a short end of season break. It was deserved. Back in April she tied the knot with her husband, Pablo Solares, but it wasn't until the end of the track season that they were able to escape for their honeymoon.
"[It was a] good mix of relaxing, and we'd gone hiking and we were doing adventures," she chimes. "So I came home feeling like 'OK let's go!'"
And there was no hanging around. In October, just a few weeks back into training, she ran the Nike Women's Half Marathon San Francisco. Rowbury is not changing distances; she trains with Alberto Salazar's Oregon Project near Portland, but her heart is in San Francisco, her hometown. "I have a strong connection," she says, reeling off stories of her Irish ancestors' weekly keighleys and her great uncle's role in towing the steel used to build the Golden Gate Bridge.
Continue reading at: spikes.iaaf.org