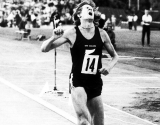 August 25, 1975
He had promised to go for the Mile record, and New Zealand's John Walker delivered, smashing the old mark by 1.6 seconds!
By Kenny Moore, Sports Illustrated
As Roger Bannister had 21 years earlier, John Walker worried about the wind. He had talked the officials at the meet in Goteborg, Sweden...
Read More
comments