Bannister's Sub-4 Minute Mile Named Greatest Athletic Achievement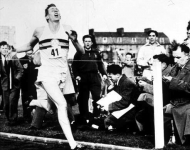 November 18, 2005
For Forbes' panel of experts, editors and readers, one feat did emerge as a clear winner: the first sub-4 by Roger Bannister in 1954
By David M. Ewalt with Lacey Rose, Forbes.com
At their best, sports are about more than just winning games and diverting crowds. They test the limits of what the human body and spirit can achieve. A great athlete performing at the peak of their powers is as moving as a Shakespearean tragedy or a Bach sonata.
In homage to these extraordinary men and women, Forbes.com has compiled a list of the greatest athletic accomplishments of the last 150 years. We started with a candidate list, which was created by a panel of experts, including commentator Bob Costas, curator Ellen Hughes and academics Robert Barnett, Linda J. Borish, Richard C. Crepeau and Mark Dyreson. Our experts, editors and readers then voted to determine a top 20 (see below).
It wasn't an easy task.
"In truth, there is no clear-cut number-one choice," says Bob Costas, a journalist and NBC sportscaster, and one of the experts on our panel. "You could make a reasonable case for a dozen different achievements."
Nonetheless, one feat did emerge as a clear winner: Roger Bannister breaking the 4 minute Mile.
When Bannister crossed the finish line of Oxford's Iffley Road track on May 6, 1954, he could hardly see straight. Completing the Mile in 3 minutes, 59.4 seconds, he had not only trimmed two seconds off the world record, but also run the world's first sub-4 minute Mile.
"People thought it was like bouncing off a brick wall," explains close rival John Landy, who had come within three seconds of the 4-minute mark six times.
"It was a sense of relief," says Bannister, recalling the momentous event more than 50 years later. "There was a mystique, a belief that it couldn't be done, but I think it was more of a psychological barrier than a physical barrier."
Landy, who broke Bannister's record with a 3 minute, 58 second finish only six weeks later, argues otherwise. "It has nothing to do with psychology," he says. "It was just a matter of having the right runners at the right level of training and the right set of circumstances."
Continue reading at: Forbes.com
TOP 20
#1 Roger Bannister: First Sub-4 Minute Mile
#2 Lance Armstrong: Seven Consecutive Tour de France Victories
#3 Jesse Owens: Four World Records in 70 Minutes
#4 Nadia Comaneci: Seven Perfect 10s
#5 Joe DiMaggio: 56-Game Hitting Streak
#6 Muhammad Ali: Three Heavyweight Titles
#7 Mark Spitz: Seven Gold Medals
#8 Gertrude Ederle: Swims the English Channel in Record Time
#9 Sir Edmund Hillary & Tenzing Norgay: Climb Mt. Everest
#10 Babe Ruth: 60 Home Runs in a Season
#11 Wilt Chamberlain: The 100-Point Game
#12 Bob Beamon: World Record Shattering Long Jump
#13 Michael Jordan: Ten Seasons at the Top
#14 Bobby Jones: Golf's Grand Slam
#15 Wayne Gretzky: 2,857 Points
#16 Martina Navratilova: 20 Wimbledon Titles
#17 Bill Russell: 11 NBA Championships
#18 Don Larsen: The Perfect World Series Game
#19 Eric Heiden: Five Individual Gold Medals
#20 Gordie Howe: 33 Professional Hockey Seasons