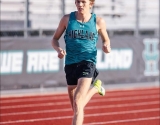 May 23, 2020
Sub-57 final lap breaks sub-4 barrier: "I didn't realize I was going to run sub-4 until I literally leaned across the line and the clock still said 59."
By Jeffrey Parenti, MileSplit.com
EL DORADO HILLS, Calif. -- Leo Daschbach accomplished what he didn't even think was possible.
Earlier...
Read More
comments