Flyin' Past Ryun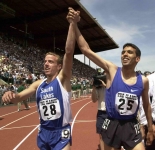 June 01, 2001
Astounding high schooler Alan Webb smashed Jim Ryun's 36-year-old high school record for the Mile at storied Hayward Field
By Tim Layden, Sports Illustrated
There was little doubt that high school senior Alan Webb had arrived in Eugene, Ore. for Sunday's Prefontaine Classic physically ready to break Jim Ryun's hallowed 36-year-old high school Mile record of 3:55.3. Since going sub-4 (3:59.86) indoors in January, Webb had trained and raced like a low-3:50s Miler. He had done startling workouts, including repeat 400 meter sprints in 53 seconds. He had run with purpose and speed against high school competition. "He's fit enough to run 3:54 or even 3:53," USA Track & Field CEO and former world class Miler Craig Masback said the day before the Pre meet. "That doesn't mean he'll do it under these circumstances."
TRANSLATION: Last Thursday, Webb, 18, was dropped into a fantasy world a continent from his Reston, Va. home. On Friday afternoon he sat next to Mile world record holder Hicham El Guerrouj of Morocco for a van ride to a training session at the University of Oregon's storied Hayward Field. On Saturday he arrived at a press conference to find director's chairs labeled: MARION JONES, MAURICE GREENE, HICHAM EL GUERROUJ, STACY DRAGILA and... ALAN WEBB. Wide-eyed, he whispered, "I can't believe I'm in the same room with these people." Before Sunday's Bowerman Mile, a race that included not only El Guerrouj but also Olympic bronze medalist Bernard Lagat of Kenya and half a dozen other world class runners, the raucous crowd of 11,221 shook the bleachers when Webb was announced.
Webb ate it all up. In the van he introduced himself to El Guerrouj, who later said, "Alan Webb has the face of a champion." At the press conference Webb was charming and deferential, and he then went to eat pasta and mint chocolate chip ice cream with his father, Steven, and his 13-year-old brother, Chris. Before his race Webb acknowledged his introduction by blowing a kiss. Then he obliterated Ryun's record by nearly two seconds, running 3:53.43, the fastest Mile by an American since 1998 and good for fifth place among the 13 finishers. En route, Webb passed 1500 meters in 3:38.26, breaking Ryun's high school record of 3:39 flat, set in 1964.
Most impre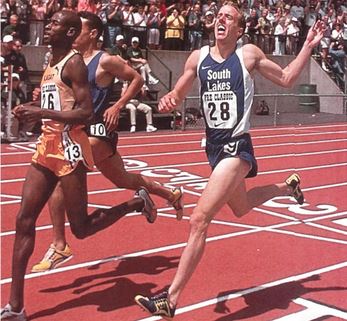 ssive was the maturity with which Webb ran. Rather than getting caught up in the pace of those in front of him, he passed the quarter-mile mark in 58.1 and the half in 1:57.8, sitting in last place most of the way. As the leaders slowed on the third lap, Webb regained contact, and at the bell he exploded, running a 55-second final quarter, nearly as fast as El Guerrouj, who won in 3:49.92, the fastest outdoor Mile ever run in the U.S.
In the aftermath of the race El Guerrouj found Webb and raised the kid's right arm. Webb jogged a celebratory lap, signing autographs and blowing more kisses. Fans rose for a standing ovation in the home stretch.
Kevin Sullivan of Canada, who finished second (3:51.82) and who trains in Ann Arbor, where he will help Ron Warhurst coach Webb at Michigan starting next fall, said, "I guess I've got my work cut out keeping ahead of Alan next year."
Webb is suddenly one of the favorites in the 1500m at the USA Outdoor Championships, June 21-24, back in Eugene. He has the speed and competitive instincts to win--or finish in the top three--and become the first high school athlete to qualify for a U.S. Olympic or World Championship team in a distance event since Ryun (1500) and Gerry Lindgren (10,000) in 1964.
Continue reading at: sportsillustrated.com
U.S. high school sub-4 history HERE.
Sunday, May 27, 2001, Hayward Field, Eugene, OR