The List: Best high school athletes ever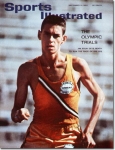 February 02, 2003
Jim Ryun, first high school boy to run sub-4 minute Mile, selected #1 over Tiger Woods and LeBron James
From ESPN Page 2 staff
LeBron James is uncommonly good. But just how uncommon? We dove into our collective brainpool and scoured ESPN's Fly High with Delta Bill Bradley Sports Library to try to put LeBron's high school exploits into context. Check out our list of the top 10 prep athletes, the best ever! LeBron not #1 nor #2.
#1 Jim Ryun (East High School, Wichita, Kansas)
As a high school senior in 1965, Ryun ran a 3:55.3 Mile at the AAU Championships to defeat Olympic champion Peter Snell. His HS record would stand for almost 36 years, broken in 2001 by Alan Webb. That's one reason he tops this list. Here are some others: Back in the day when a sub-4-minute Mile was relatively scarce, in 1964, Ryun broke 4 minutes as a junior, the first high school prep to do so. Five of the six fastest schoolboy Mile races have been recorded by Ryun, most of them on much slower track surfaces than today's. While still in high school, Ryun competed in the 1500 meters in the 1964 Olympics, making it to the semifinals.
Later at the University of Kansas, Ryun set the world record for the half mile and ran a 3:51.3 Mile to shatter the old world record by 2½ seconds, breaking that mark the next year, clocking 3:51.1 in Bakersfield, California on June 23, 1967. He also competed in the 1968 and 1972 Olympics, taking a silver medal in the 1500 meters at Mexico City. He is currently a U.S. congressman.
#2 Tiger Woods (Western High School, Anaheim, Calif.)
Because Tiger hit the international golf scene so early -- as a 16-year-old sophomore he became the youngest ever to play a PGA event -- his high school golf career has been little more than a footnote. But it was still fantastic -- he was named L.A. Times Golfer of the Year his freshman year and never looked back. Woods won three Orange League titles and three Southern Section championships in his high school career, usually shooting under par (he was 39-under overall his senior season) and setting all kinds of records. He also won three straight USGA titles.
#3 LeBron James (St. Vincent-St. Mary, Akron, Ohio)
We wouldn't be doing this list if it weren't for LeBron.
#4 Lew Alcindor (Power Memorial, New York City)
Before he became a star at UCLA, Alcindor was unbeatable at Power Memorial High School and led Power Memorial to the New York City Catholic High School championship in 1963-65, racking up 2,067 points and 2,002 rebounds in his prep career, both New York City records. In his sophomore season, he became the first soph to make Parade's high school All-American team. Wrote ESPN.com's Sam Smith: "The greatest hype? I'd have to say it was for Kareem Abdul-Jabbar, then named Lew Alcindor. High school games weren't televised back then, but we did have TV and even a couple of stations. When Alcindor was at Power Memorial High School, his game against Morgan Wooten's DeMatha powerhouse was a national story, especially since Power hadn't lost for several years. DeMatha won, and Alcindor went to UCLA and didn't lose again for several years."
#5 Ken Hall (Sugar Land High School, Sugar Land, Texas)
The "Sugar Land Express" rushed for 11,232 yards in his high school career (1950-53), a national record that still stands. He set other longstanding marks as well -- his single-season record of 4,045 yards (an average of 337 per game) stood for 43 years, and his record of 33 100-yard games wasn't topped until Emmitt Smith came along in the mid-'80s. In one game his senior year (in which Sugar Land won the Class A state title), he scored seven TDs and ran for 520 yards -- and then he took the remaining 2½ quarters of the game off.
Hall went to Texas A&M, didn't get along with Bear Bryant, and quit for good when he was a junior. He played pro for five years -- one with the Edmonton Eskimos of the CFL and four with the Colts, Oilers and Cardinals -- but never matched his schoolboy success.
Continue reading to see the rest of the list: espn.go.com/page2/s/list/highschool.html