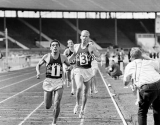 September 03, 1962
"Everybody said the American runner is lazy, don't work. Now the American distance runner is the best in the vorld."
By John Lovesey, Sports Illustrated
Getting to the top these days is not so much a climb for mountaineers as it is an exercise in pyramidal logistics. A large expedition,...
Read More
comments