A Midsummer Night's Dream Mile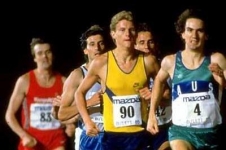 August 05, 1985
And here was all this power, suddenly, as if he had just joined the race... In the stretch he appeared taller than in earlier laps, expanding in the imagination.
By Kenny Moore, Sports Illustrated
Sebastian Coe turned into the last backstretch of the Dream Mile at the Bislett Games in Oslo in perfect position. He was second, staring at the back of British countryman Steve Cram's yellow shirt a yard ahead. A year ago, Coe outkicked Cram to win the Olympic 1500 meters. Two weeks ago, Cram broke the world record in the 1500, clocking 3:29.67. Coe had held the Mile record, 3:47.33, since 1981. This race was their reckoning.
Cram, who had shot into the lead with just under a lap to go, was flying. Coe was running simply as hard as he could. Pumping his arms as if in the home-stretch already, he could feel his spine stiffening.
Then he saw Cram look left and right, not to check the action behind but just to look into the infield and then at the screaming crowd, as if he needed a little diversion in these moments of fury. Coe later said, "When you're running as hard as I was, and the guy ahead is looking casually from side-to-side, you know."
He sensed then that for the only time in the nine world record breaking races he has run, he would not be the man to stagger away content. He knew, too, as they reached the final turn last Saturday night, July 27, that this was the climax of the most magnificent evening of distance running in history, an evening that already included world records by Norway's Ingrid Kristiansen in the women's 10,000 meters and Morocco's Said Aouita in the men's 5000. That only added to the mystique of Oslo's old, intimate Bislett Stadium, where an astounding 45 world records have now been set since 1924.It was in that storied stadium, and in the aftermath of Kristiansen's and Aouita's stirring runs, that the Milers had taken their marks. Coe, who felt that he wouldn't reach peak fitness for another three weeks, seemed distracted warming up. "He asked me if the world record will go," said legend John Walker, history's first sub-3:50 Miler and Olympic champion, whose record Coe took in 1979 on the Bislett track. "I said yes."
Thirteen aggressive men toed the line. Coe and Cram were given outside starting positions. Half-miler James Mays of the U.S. took the lead, followed by Mike Hillardt of Australia, Coe, Jose-Luis Gonzalez of Spain, Steve Scott of the U.S., who had predicted that it would take a sub-3:46 to win, and Cram. At the 400, Mays had a few yards on the field in 56.01. Cram was third by then, a picture of rangy grace.
Continue reading at: si.com/vault
Mile world record progression HERE.