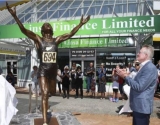 March 12, 2018
"This is a legacy for others. When they look at the statue kids can say to each other 'if he can do it, so can I'."
From Stuff.co.nz
One of the country's sporting heroes has been immortalized in his hometown.
Olympic champion and Mile world record holder Sir John Walker unveiled a...
Read More
comments