Nick Willis runs record sub-4 Mile for 19th straight year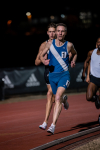 January 19, 2021
Two-time Olympic medalist breaks tie with Olympic champion and fellow Kiwi legend Sir John Walker
By Jonathan Gault, LetsRun.com
Evergreen Nick Willis made history on Tuesday night by breaking 4:00 in the Mile for the record 19th year in a row. Willis, 37, ran 3:58.63 to finish second behind Mason Ferlic (3:58.05) at the Orange Winter Classic #1 meet in Clermont, Fla., breaking a tie with fellow New Zealand legend John Walker, who went sub-4 for 18 years in a row from 1973-90.
Willis broke 4:00 for the first time on February 8, 2003, at the Meyo Invitational in South Bend, Ind., when he was 19-years-old, and has broken 4:00 every year since, with a personal record of 3:49.83 at age 31 in 2014. He has also earned two Olympic 1500m medals during that span — a silver in 2008 in Beijing, and a bronze in 2016 in Rio.
Post-race on Instagram, he thanked his longtime coach Ron Warhurst and his wife Sierra for their support, and added: "Thanks everyone for your support over the years. I'm truly humbled by the support this random streak / record has brought."
Below, courtesy of messageboard poster "Mark" is Willis' fastest track Mile every year since his streak began in 2003. It's also worth noting that Willis came close to starting his streak two years earlier, as he ran 4:01.32 as a 17-year-old in 2001 and 4:02.46 in 2002.
Time / Place / Location / Meet / Date
3:58.15i 4 Notre Dame, IN Meyo Invitational 08-Feb-2003
3:53.51 2 Eugene, OR Bowerman Mile 19-Jun-2004
3:53.43 11 Oslo, NOR Bislett Games 29-Jul-2005
3:52.75 1 Wanganui, NZL Mayoral Mile 11-Feb-2006
3:55.09 4 New York, NY Reebok Grand Prix 02-Jun-2007
3:50.66 2 Eugene, OR Bowerman Mile 08-Jun-2008
3:53.54i 1 Boston, MA Reebok Indoor Games 07-Feb-2009
3:55.26i 1 Boston, MA Reebok Indoor Games 06-Feb-2010
3:51.95 10 Eugene, OR Bowerman Mile 04-Jun-2011
3:51.77 7 Eugene, OR Bowerman Mile 02-Jun-2012
3:55.70 1 Des Moines, IA Drake Relays 27-Apr-2013
3:49.83 2 Oslo, NOR Bislett Games 11-Jun-2014
3:51.46i 2 New York, NY Wanamaker Mile 14-Feb-2015
3:51.06i 2 New York, NY Wanamaker Mile 20-Feb-2016
3:56.41 2 Huntington, NY Long Island Mile 06-Sep-2017
3:56.77 5 Birmingham, GBR Emsley Carr Mile 18-Aug-2018
3:54.80i 6 New York, NY Wanamaker Mile 9-Feb-2019
3:59.89i 2 Boston, MA New Balance Grand Prix 25-Jan-2020
3:58.63 2 Clermont, FL Orange Winter Classic #1 19-Jan-2021
i = indoors
Continue reading at: letsrun.com (includes more sub-4 breakdown lists for Willis)
PHOTO: Tracksmith