John Walker at 70: His Finest Performances & Legacy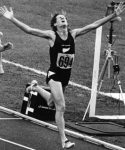 January 14, 2022
A journalist once asked Walker "What's the most significant factor in your success?" Walker replied simply "Arch Jelley".
By Brett Davies, Runnerstribe.com
On the 70th birthday of legendary New Zealand Miler, Sir John Walker – who reached his milestone birthday on the 12th of January this year – we take a look at his 5 greatest career performances, plus some other great achievements and we also look at Sir John's impact on the sport of middle-distance running over his career.
Sir John had one of the longest and most successful careers of any international middle-distance runner. In a career that spanned 17 years, he won Olympic gold, broke 3 world records, became the first man to run under 3 minutes 50 seconds for the Mile and was the first man to run 100 sub-4 minute Mile races. He also won Commonwealth and World Cup medals and was a winner of many big races all over the world. There were many highlights over his long, glorious career. We'll begin with the 5 best John Walker moments.
#1 Olympic 1500m Gold – Montreal , Canada, July 1976
Hands down, the biggest win of John Walker's career. Walker, as the Mile world record holder, went into the Olympic as favorite for the 1500m. He was the dominant middle-distance runner of the previous season and was expected to face his biggest rival – Tanzania's Filbert Bayi – in what was one of the most eagerly-anticipated clashes of the Summer Games.
However, Bayi, the world 1500m record holder, was an unfortunate victim of the African boycott of the Games and missed out on his showdown with Walker. The pressure was now on Walker to deliver, and there was huge expectation on Walker at home in New Zealand. The 24-year-old Walker was in great shape. He enjoyed a solid summer of training and racing at home in NZ, and was in top form coming into the northern hemisphere summer. He had recently smashed the 2000m world record in Oslo and looked confident and in control in his races in the lead-up to Montreal.
Walker was also entered in the 800m, but was run out in his heat. However, considering the quality of the athletes entered in the 800m – eventual winner 'El Caballo' Alberto Juantorena (CUB), Belgian sensation Ivo Van Damme, Rick Wohlhuter (USA) and other talented athletes – Walker had no realistic chance of winning a medal in the 800m, and missing the final gave him a chance to rest and to focus on the 1500m.
The 1500m final took place on Saturday, July 31st, and Walker toed the line with future world champion Eamonn Coghlan (IRL), future world record holder Dave Moorcroft (GBR), the 800m silver medallist in Montreal, Van Damme (who was tragically killed in a car accident later that year), 800m bronze medallist Wohlhuter, '72 finalist Paul-Heinz Wellman (FRG) and the then Australian national record holder Graham 'Gruffy' Crouch, among the 9-man field.
Without Bayi, there was no real front-runner in the field, and the pace lagged a little (62.48 at 400m / 2:03.15 at 800m), with Moorcroft and then Coghlan leading. Walker was poised and in control, sitting just off the lead. At 1000m, Coghlan led, with Walker on his shoulder, with Van Damme and Crouch making moves towards the front. At 1200m (3:01.23), nobody had made a decisive move and Walker was still on Coghlan's shoulder, ready to pounce.
Wohlhuter moved up to Walker with 250m to go and Walker responded. He kicked hard into the lead and began to stretch the field. Van Damme and Coghlan were caught off guard by Walker and lost a couple of meters to the New Zealander. Walker maintained the pressure around the final bend, held his lead and turned into the straight with a good meter or two on his pursuers. There were late challenges by Van Damme, Coghlan and Wellman, but Walker held on for gold, edging out Van Damme, Wellman and a bitterly disappointed Coghlan, who would also finish 4th in the Olympic 5000m, 4 years later.
Walker's winning time was 3:39.17, with Van Damme a tenth of a second behind. Wellman ran 3:39.33 for third. Walker covered the final lap in about 52.4 and the last 200m in around 25.3. Crouch finished 8th in 3:41.80, but had done well to make the final, considering that athletes the caliber of Thomas Wessinghage (FRG) and Steve Ovett were run out in the semis.
Walker had emulated his celebrated countrymen, Peter Snell (1964) and Jack Lovelock (1936) in winning what is arguably the most prestigious event on the Olympic track program.
#2 The First Sub-3:50 Mile – Goteborg, Sweden, August 1975
On Tuesday, August 12, 1975, John Walker broke one of the most significant barriers in middle-distance running, when he smashed Bayi's Mile world record, clocking 3:50 for the first time.
Bayi had snuck inside American Jim Ryun's world record earlier in 1975 by just a tenth of a second, when he ran 3:51.0 In Jamaica and he effectively threw down the gauntlet to the big Kiwi.
Walker was up to the challenge, as he was in superb form all year. In March of '75, he'd led New Zealand to a team gold medal in the World Cross Country Championships in Rabat, finishing 4th, just behind American marathon champion Bill Rodgers. Scot Ian Stewart edged out Spaniard Mariano Haro for gold.
Touring Europe with great mate and training partner, 1972 Olympic 1500m bronze medallst Rod Dixon, it was a stellar northern-hemisphere summer season for Walker. He had run some fast 800m races and he beat a great field to win the Mile in Stockholm in 3:52.2. He had also marginally improved upon his national 1500m record a couple of weeks before Goteborg, winning in Oslo in 3:32.4 – the then second-fastest in history.
Walker was clearly primed for something special. The race in Goteborg was held in near-perfect conditions, and the pace was solid from the gun. Australians Ken Hall and Graham 'Gruffy' Crouch were there also and Hall was helping out with the pacing. Walker and Hall passed the half mile in 1:55.5 and the three-quarter mile in 2:53.0, when Walker took over and began his strike for home, drawing away from Hall. He was on target for the record with 200m left and he began his final big push towards the finish. He tied up slightly, but held his speed well to the line.
He stopped the clock with the history-making time of 3:49.4, breaking Bayi's record by over one-and-a-half seconds (see finish photo below). Track & field experts regarded this first sub-3:50 Mile as a significant achievement, perhaps as important at Roger Bannister's first ever sub-4 minute Mile 21 years earlier.
Walker was feted around the world for his phenomenal run, though in those days, the financial rewards for such a performance were underwhelming. On top of his expenses, Walker said that he received the princely equivalent of NZ $500 for breaking the record.
Hall was rewarded with a big PR of 3:55.2 in second and Crouch was third. This race cemented Walker's place as one of the sport's most outstanding performers. This phenomenal performance set him up as a huge favorite for the Montreal Olympic Games the following year.
Continue reading at: runnerstribe.com