Bayi recounts legendary 1974 1500m world record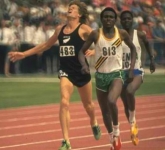 December 29, 2019
"They didn't expect I would win that race. John [Walker] knew that maybe I would die – but I was prepared for that one!"
By Mike Rowbottom for World Athletics
Among the past contests highlighted during last month's World Athletics' inaugural Heritage Mile Night in Monaco was the epic 1500m race in Christchurch, New Zealand, at the 1974 Commonwealth Games, where an unheralded Filbert Bayi produced one of the most audacious performances in athletics history as he led from gun-to-tape to win gold in a world record of 3:32.2.
The 20-year-old Tanzanian took almost a second off the 1967 mark of 3:33.1 set by Jim Ryun of the United States – also present in Monaco - with home runner John Walker – another honored guest – chasing him down the final straight.
The following year Walker – who had also beaten Ryun's mark with his silver medal performance of 3:32.52 - became the first man to better 3:50 for the Mile, running 3:49.4 in Gothenburg to beat the record of 3:51.00 set by Bayi earlier that year.
The Kiwi went on to win Olympic 1500m gold at the 1976 Montreal Games – a Games from which Bayi was precluded because of an African boycott protesting against the New Zealand rugby union team playing against the then apartheid nation of South Africa.
Notwithstanding Bayi's later frustrations, that 1974 run stands as one of the best athletics performances in one of the great athletics races. For all time.
Speaking after the assembled fellow athletes and guests had had another opportunity to view the closing stages of that stupendous competition in Christchurch, Bayi reflected with wry satisfaction upon his landmark achievement.
"When I arrived in New Zealand nobody took much notice," Bayi said. "My friend John Walker was a citizen of New Zealand, so the money was put on him. But John knew me. And we knew that something might happen there because there were also some very good Kenyans there like Ben Jipcho and Mike Boit."
Commenting a little later in the evening upon that extended display of courage and self-confidence, Bayi added: "John was watching me when I was running in front of him. They didn't expect I would win that race. John knew that maybe I would die – but I was prepared for that one!"
Bayi said he had already decided upon his race plan following his success in the 1973 All-African Games in Lagos, where he had won the 1500m title with a front-running performance that had defeated a field including Kenya's double Olympic champion Kip Keino.
"I felt I would do the same as this front runner in New Zealand," he said. "I knew that I would be a front runner because nobody recognized me. And that's what I did.
"People thought they would get me in the final 200 meters. I was taking it easy, and when John was coming close to me I accelerated in the last 100 meters."
Continue reading at: worldathletics.org
1974 Commonwealth Games 1500m final video