Bannister, Charles among the honorees at World Athletics Heritage Mile Night celebration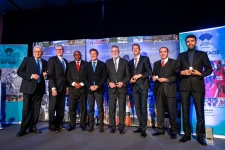 November 21, 2019
Evening in Monaco recognized Mile history, record setting legends and iconic events
From World Athletics
Roger Bannister and Diane Leather Charles, who respectively became the first man to run the Mile in under 4 minutes and the first woman to break the 5 minute barrier for the iconic distance, were among the honorees at the 'World Athletics Heritage Mile Night' in Monaco on Thursday evening.
The event, hosted by World Athletics President Sebastian Coe, brought together more than a dozen of history's greatest Milers, including eight of the last 10 living men's outdoor world record holders.
Bannister and Leather Charles, who both achieved their barrier-breaking performances in May 1954, were recognized in the posthumous 'Legend' category. Bannister's daughters, Erin Bannister-Townsend and Charlotte Bannister-Parker, and Leather Charles's daughter, Lindsey Armstrong, attended the event to accept the awards on their parents' behalf.
During the celebration, Coe also announced eight recipients of the World Athletics Heritage Plaque, six of which were related to the Mile.
The World Athletics Heritage Plaque is a location-based recognition which highlights, celebrates and links together iconic and historic athletics competitions, careers, performances, cities, venues, landmarks and culture around the world. The plaque is awarded for an outstanding contribution to the worldwide history and development of athletics.
Four world famous Mile races and their host meetings were recognized in the 'Competition' category.
The UK's Emsley Carr Mile (various venues) was founded in 1953 in the memory of Sir William Carr, a former editor of the News of the World, to help inspire a successful sub-4 Mile attempt. Hicham El Guerrouj's 3:45.96 run in 2000 is the current race record.
New York's Millrose Games (1908) is the world's oldest indoor meeting. Millrose's headline event is the Wanamaker Mile (1926) which has seen six wins by Glenn Cunningham in the 1930s, seven by Eamonn Coghlan in the 1970s and 1980s and eight by fellow legend Bernard Lagat in the 2000s.
The Oslo Bislett Games was founded in 1924 but its modern history began under Arne Haukvik's direction in 1965. Its marquee attraction is the Dream Mile (1976) which has seen 3 world records, one each from Britain's Sebastian Coe, Steve Ovett and Steve Cram.
Eugene's Prefontaine Classic (1975) and the Bowerman Mile (1975) was recognized in two categories, 'Competition' and 'Legend', given its history has been successfully driven by the memory of Oregon's 24-year-old, charismatic Steve Prefontaine who died in a car crash in 1975.
Mile world record progression HERE.
PHOTO CREDIT: Philippe Fitte for World Athletics
World Athletics Heritage Mile Night
Thursday, November 21, 2019 in Monaco