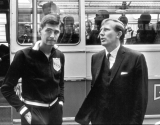 March 10, 2018
It is hard to put into words the impact Roger Bannister had, not just on me, but on the world.
By Jim Ryun
When I heard the news of Roger Bannister's death last week at the age of 88, I recalled the first time I ever heard of Bannister, in the spring of 1963.
I was rattling back to Wichita...
Read More
comments