Finishing the Race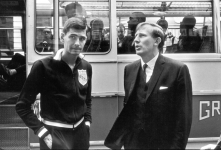 March 10, 2018
It is hard to put into words the impact Roger Bannister had, not just on me, but on the world.
By Jim Ryun
When I heard the news of Roger Bannister's death last week at the age of 88, I recalled the first time I ever heard of Bannister, in the spring of 1963.
I was rattling back to Wichita from Kansas City in an old yellow school bus when my high school coach, Bob Timmons, said, "I think you can be the first high school boy to break 4 minutes in the Mile, just like Roger Bannister became the first man to break 4 minutes in 1954."
Having just scratched out a 4:21 Mile to win the Washington Relays that afternoon, I wasn't sure how to digest what he was telling me. My first thought was, "Who is Bannister?" I knew more about baseball and Mickey Mantle than I did about running and runners.
Months before I had been a gangly high school sophomore in search of meaning, something to define myself by. I had been cut from the baseball team when my throw from third to first developed a hop (to add insult to injury, this was the church baseball team). My search for a life calling continued to come up empty after I was invited out for the junior high basketball team and then asked to turn my practice jersey in that same day.
But something eventually clicked that sophomore year. Slogging through the late summer heat of Kansas, I survived the first few grueling weeks of cross country practice and made my first team. I was the 21st man on a three-squad, 21-man team. But I was finally on a team. Then, very quickly, I moved up from the C team to the JV team to leading my varsity squad to a state championship that fall, placing sixth overall in the Kansas High School Cross Country Championships.
I had found my calling. I was born to run.
Continue reading at: weeklystandard.com