Mile legend Jim Ryun didn't want Olympic glory - he just wanted to make his high school team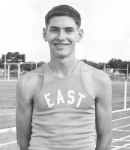 May 26, 2019
Less than three years after taking up the sport, then nearly quitting it, he was running on the biggest stage in the world.
By Jenni Carlson, The Oklahoman
Back in the 1960s, there weren't many athletes who were a bigger deal in our neck of the woods than Jim Ryun.
His exploits on the track were chronicled in the sports pages. His records and races in the Mile were celebrated in Sports Illustrated, including 7 coveted covers. His story was the thing of legends, a lanky kid from Wichita, Kansas, pushing the bounds of what anyone thought was possible.
A high schooler running the Mile in under 4 minutes?
A young man from the heartland setting world records?
Ryun was a Middle America hero.
But to hear him tell it all these years later, his journey began because he was just looking for a sport where he could make the team.
"I was the guy who was cut from every team he tried out for," Ryun said the other day from his home in Kansas. "That includes the church baseball team, so you can see that's not a bright future."
He chuckled.
"When I entered high school, I went out for a team I'd never heard of before — cross country," he said. "I must have been pretty desperate because I'd never run before, and all of a sudden, I'm running 40 or 50 miles a week.
"I was desperate."
In running, Ryun found his calling. It's still among his biggest passions all these years later.
Continue reading at: oklahoman.com