Jump Start: The Second Reinvention of Alan Webb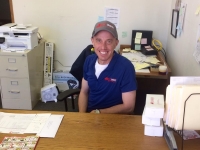 July 24, 2017
"We were in the running industry for so long, that was really all we were. That's where all our value was, and I think it's cool we're able to take the skills we learned there — the hard work, the discipline, the drive — and transfer them over to a different industry."
By Dave Devine, DyeStat.com
On the evening of June 27, 2001, talk show host David Letterman welcomed his typically disparate mix of guests to the Ed Sullivan Theater for that night's taping of the Late Show.
There was comic actor Marlon Wayans, promoting the release of his upcoming film, Scary Movie 2.
A promising band named Coldplay, already famous in the United Kingdom, but relatively unknown in the United States, on hand to play "Trouble" from their debut album, Parachutes.
And, perhaps most incongruously, Alan Webb, an 18-year-old kid from Reston, Va., who—exactly one month earlier—had set a national high school record in the Mile, running 3 minutes, 53.43 seconds at the Prefontaine Classic to shatter Jim Ryun's 36-year-old prep record of 3:55.3.
Continue reading at: www.dyestat.com