The Training of Jim Ryun an American Superstar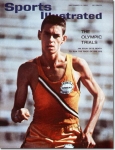 May 23, 2017
Ryun's high school coach, Bob Timmons, was formerly a swimming coach, and he more or less trained Ryun as a swimmer.
By Runner's Tribe
The first American high school athlete to run a sub-4 Mile, multiple world record holder, Olympic 1500m silver medalist. Jim Ryun to this day is an American superstar, rivaled by very few before and since.
He was also known for an insane training regime and work ethic. We took a look back over the training that made the man a Legend.
DOB: April 29, 1947, Wichita, Kansas
Personal Records
880 yards: 1:44.90 (former world record)
1500m: 3:33.10 (former world record)
Mile: 3:51.1 (former world record)
2-Mile: 8:25.10
5000m: 13:38.20
Highlights
Olympic 1500m silver, Mexico 1968
1500m world record holder, from 1967 to 1974
Mile world record holder, from 1966 to 1975
First American high school athlete to run a Mile in under 4 minutes
Continue reading at: www.runnerstribe.com