The Navy Mile dedicates women's elite heat to Senior Chief Shannon M. Kent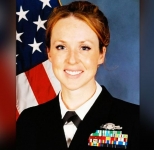 September 15, 2019
Fifth edition honors fallen heroes and Dixon Hemphill; Mile legend Jim Ryun guest of honor; BBTM Grand Prix Tour 2019 finale
From The Navy Mile
Continuing its tradition to honor fallen heroes, the 5th Navy Mile on Pennsylvania Avenue will dedicate the women's elite heat to Senior Chief Cryptologic Technician (Interpretive) Shannon M. Kent. The annual fall road race will be held on Sunday morning, October 6 in our Nation's Capital.
The daughter of a New York State Police Officer and an elementary school teacher, SCPO Kent grew up in Pine Plains, New York. She was an honors student and standout athlete in high school, enlisting in the Navy in 2003. Her multi-language talents coupled with her natural athletic abilities led her to assignments assisting Special Operations Forces (SOF) intelligence operatives during her initial deployments. She volunteered to be part of a special mission detachment to Syria as part of Operation Inherent Resolve, tracking down ISIS fighters. On January 16, 2019, SCPO Kent and three of her team members were tragically killed by an ISIS suicide bomber while they were walking by a restaurant in Manbij, Syria. She is survived by her husband, Joe, and their two children.
This recognition adds to other heats that The Navy Mile will dedicate to Sailors who have made the ultimate sacrifice to their country:
► CDR Willie C. McCool – Killed while serving as the mission pilot of the space shuttle Columbia and 1982 Navy Cross Country Captain
► CPO SEAL Charles H. Keating IV – Killed in action while engaged in combat operations in Syria and former University of Indiana track standout
► PO1 SEAL Patrick D. Feeks – Killed during combat operations in Afghanistan, dedicated Sea Cadet and high school athlete
The Navy Mile will also be honoring World War II veteran LCDR Dixon Hemphill by dedicating the 70 & over Mile heat in his name. Dixon, known nationally as an active 90-plus Masters runner, has been a participant in The Navy Mile since its inception.
The Navy Mile offers $15,000 in Open prize money and will again host the finale of the Bring Back the Mile Grand Prix Tour, a national series of Mile events to promote & celebrate "America's distance". In addition, legend Jim Ryun, Olympic silver medalist and former Mile world record holder & Congressman, will be the guest of honor at the event.
The Navy Mile on Pennsylvania Avenue, sponsored by the National Capital Council of the Navy League, celebrates the U.S. Navy's birthday while raising funds for our charitable partners: U.S. Naval Sea Cadets, Navy Safe Harbor Foundation and Navy Memorial.
To learn more about the event or to register, visit: thenavymile.com