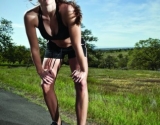 January 07, 2018
Training for the Mile can become complex at the highest levels of performance, but the fundamental challenge lies in making the goal pace sustainable for the race duration.
By Sarah Barker, Triathlete.com
It's the end of tri season and the brick is broke. It's dark at both ends of the day,...
Read More
comments