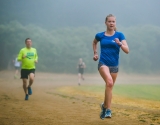 June 13, 2017
Cram your way to a PR this month with workouts from Coach David Roche.
By David Roche, Strava Stories
Running can be a solitary activity. No one can run for you. You have to lace up your shoes and get out the door all on your own.
But when you run the Mile, even when you run solo, you're...
Read More
comments