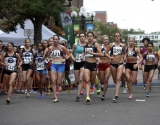 August 06, 2018
"I think the thing they want to do is not to set off too fast at the start. After the half-mile, start moving up."
By Mike Sandrock for Daily Camera
"Sir Roger?"
"Yes, how can I help you?"
Bingo! I was on the phone with Sir Roger Bannister, the English neurologist who on May 6, 1954,...
Read More
comments