Jenny Simpson on 2020 Resolutions & Goals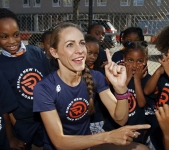 January 05, 2020
"You eat three times a day and you sleep every single night, so I think if you can get those two things really, really right it can have a greater impact just because of the frequency of how often you engage in those activities."
By Erin Strout, Women's Running
For Jenny Simpson, there actually is no place like home for the holidays—it's the first time she and her husband, Jason Simpson, have had the opportunity to stay in Boulder, Colorado, to celebrate Christmas and ring in the new year.
Typically, the couple visits her family in Stillwater, Oklahoma, or his in Kansas City, Missouri. But on the eve of an Olympic year, it's nice to take a deep breath and get ready for what's ahead, says Simpson, a three-time Olympian and a 1500 meter world champion. They'll enjoy dinner with friends on New Year's Eve.
"We usually miss so much and so many holidays in Colorado because of my racing schedule and family obligations," she says. "So, we're really looking forward to it."
Whatever the celebration plans, after the calendar switches to 2020, your sights don't have to be set on the Tokyo Games to feel inspired to set new goals—runners of all kinds may want to shake up routines and start anew. Simpson, who invites runners to share their resolutions with her on social media as part of the New York Road Runners Resolution 5K (#ResolveToRun), offers some insight into how she hopes to improve in an important year for her running career and shares advice on how to get started.
Loosening her grip. At 33-years-old, Simpson is already quite accomplished her career. She's the first U.S. woman ever to win an Olympic medal in the 1500 meters (bronze in Rio 2016), she's the 2011 world champion in the event, and two-time world silver medalist. Simpson isn't resting on her laurels, but to some extent her success lessens the all-or-nothing pressure.
In order to make Team USA a fourth time, she'll need to place in the top three in the 1500 meters at the U.S. Olympic Track & Field Trials, set for June 19–28 in Eugene, Oregon.
"It makes it a slightly looser grip on the dream because I've been fortunate to make it already. I feel grateful already going into the season," Simpson says. "I do think it's a misconception, though, that one year builds on another—every year stands on its own for me and I feel like I have to re-earn that right to stand on the starting line really believing I can make the team again."
Many means to the end. While fans witnessed a rivalry between Simpson and Shannon Rowbury during the past several years, now the anticipation is focused on the competition between Simpson and Shelby Houlihan, who set the 1500m American record at the 2019 World Championships in 3:54.99 (Rowbury plans to focus on the 5000 meters). But no matter who's on the line, Simpson has learned to trust in whatever path leads her to the Trials feeling healthy and confident.
Every time Simpson has made it to the Olympics or world championships, the training has looked different, she says. And she isn't altogether sure what it will entail in 2020 either—but her track record (pun intended) is a reminder that usually there's no right answer.
"I'm looking forward to seeing what this year looks like, because as much as I know and as much as I've experienced, I know that you can never predict how it's going to play out. You don't know what challenges are going to stand in your way," she says. "I'm ready for the year to be delightfully unpredictable and still end up a success."
That said, Simpson does enjoy a degree of familiarity, which she can use to her competitive advantage.
"Unlike somebody making it for the first time—who is imagining and wondering what that feeling is like or what it's going to take—there's no sense of wondering," she says. "I know exactly what it takes and I know what I need to do."
Continue reading at: womensrunning.com