Mile Great Scott: Even pacing key at Pearl Street, Mile High Miles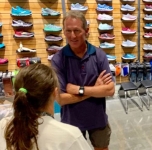 August 05, 2019
Advice to young runners gleaned from his coaching years includes patience, relaxation and trusting in your coach.
By Mike Sandrock, Daily Camera
There have been athletes from 71 countries running faster than 4 minutes for the Mile since Roger Bannister first broke the historic barrier on May 6, 1954. None have been as prolific as Steve Scott, the former U.S. record holder (3:47.69) who ran sub-4 an amazing 137 times, held three American records and is considered one of the all-time running greats.
Last week, the affable Scott spent a couple of days in town at the bi-weekly Boulder Road Runners All-Comers track meet. Later that evening he spent speaking at In Motion Running before headlining the Corporate Track Championships in Golden over the weekend.
At times charming, funny, interesting and engaging, Scott, 63, had much to say about his career, training and racing to the young runners listening to him at In Motion. Those in attendance included Boulder sub-4 minute Miler Drew Hunter, who will represent the United State in the 5000 meters at the IAAF 2019 Dohar World Track Championships in September.
Also present were Jenny Simpson (world champion 1500 meters) and defending World steeplechase champ Emma Coburn. Hunter and his Tin Man Elite teammates sat in a row, listening intently to Scott, who has been where they want to go and has returned with nuggets of wisdom.
"The Mile still has a mystique," said Scott, a two-time Olympic finalist in the 1500 meters and silver medalist in the inaugural 1983 Helsinki World Championships. "It is not too short and not too long; people can relate to it, the history, and it is usually competitive."
The Olympics retain their mystique as well, he continued, adding "I would have given 136 of my sub 4s to have an Olympic medal." He called his first sub-4, run while a college junior at UC Irvine, his favorite.
The fates decreed otherwise. In 1980, Scott won the U.S. Olympic Trials 1500, but the U.S. boycotted the Moscow Olympics. In 1984, tense and anxious leading up to the heavily publicized Los Angeles Olympic Games, Scott and his coach completely changed their successful sit-in-the pack-and-kick strategy.
Worried about a slow pace, Scott took the lead, pushing the pace. Thinking he had dropped the field that included Great Britain stars Steve Cram and Sebastian Coe, Scott looked over his shoulder — and saw the entire field bunched together, sitting on his heels, eagerly waiting to pass.
"If you look back, that is the direction you will be going," he said.
Continue reading at: dailycamera.com