Colleen Quigley Shares Her Super Productive Morning Routine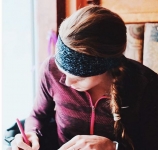 September 20, 2018
My favorite part is the habit tracker, where I keep a record of all the habits...
By Hailey Middlebrook, Runner's World
For most of us, just getting up in the morning can be a hurdle. But because Colleen Quigley takes real hurdles in stride, it's no surprise that her morning routine is a well-oiled machine. Earlier this month, the Olympic steeplechaser—who lives and trains in Portland, Oregon, with the Bowerman Track Club—rounded off her summer racing season at the Fifth Avenue Mile, finishing in second place behind Jenny Simpson with a time of 4:19.2 , a personal best.
Now enjoying some well-deserved time off, Quigley walked us through what a typical start to the day looks like during her training season. Her recipe for success? Eight hours of sleep, meditation & journaling and a satisfying breakfast. Here's a glimpse of her morning, as told to Runner's World.
Wake Up
The night before, I go to bed around 10:30. I like to read and have some tea around 10, and try to go lights out by 10:30 or 10:45. Then I wake up at about 7, making sure to give myself a full eight hours. We usually workout at 10 or 10:30 in the morning, so I want to have enough time to fully wake up and get some food before my body has to be ready to go.
Meditate
I usually don't spend much time lying in bed; as soon as the alarm goes off, I try to get up right away. After getting up, the first thing I do is a 10-minute meditation session. At home, I sit down on my meditation cushion with my hips elevated, legs crossed and hands on my knees with palms facing down.
I use a meditation app called Headspace that I started using a little over a year ago. Meditation is my secret weapon—I've found that it helps me race without without extra stress or anxiety but with clarity and purpose.
Continue reading at: runnersworld.com