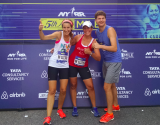 September 18, 2015
Sometimes it's a good idea to break away from your training plan. Here's why I did it!
By Ali Nolan, Runner's World
Before the Fifth Avenue Mile on Sunday, it had been over a decade since I raced a single Mile. I signed up on a whim when a coworker emailed me an invitation to be part of the...
Read More
comments