Why You Should Ditch That Half Marathon for a Mile Race Instead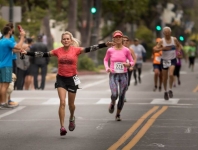 July 06, 2017
The iconic distance is a fun challenge for running vets and racing rookies alike: "the best of distance and speed combined… no matter where your strengths lie…"
By Carly Graf, Shape
The magic of the Mile is that it's a doable goal for the run-shy but also the ultimate yardstick for PR chasers. That's why more runners than ever are taking on this short and speedy road race: Sign-ups have spiked 64 percent since 2010, while the number of races has nearly doubled, according to Running USA. The super-popular New York Road Runners New Balance 5th Avenue Mile, for instance, has over 6,000 finishers, ranging from first-timers to elite runners.
"The mile is the perfect way to get newer runners into racing because it feels more manageable and you know you can grit your way through," says Stephanie Schappert, a Hoka One One track athlete who specializes in the 1500 meter race. "But it's also a new obstacle for seasoned runners who want to shave seconds off longer distances and embrace a speed challenge."
If you haven't attempted a timed run since high school, don't let that deter you, says Schappert. "A Mile race is the best of distance and speed combined, so no matter where your strengths lie, you'll be able to handle it," she says.
Continue reading at: www.shape.com