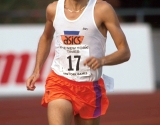 July 05, 1986
The 1986 Dream Mile, Bislett Stadium, Oslo, Norway: "Truly – this feels like flying. No pain – just effortless running."
By Jim Spivey
I gave myself one week to recover from flying over to London, and then picked up only one bag and flew to Oslo, Norway.
The Dream Mile is probably the...
Read More
comments