The Golden Mile: The torch is passed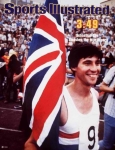 March 13, 1980
As Coe entered, the meet's athletes rose in a standing ovation. For the first time what he had done began to sink in, and he was moved.
By Kenny Moore, Sports Illustrated
The streams of talent and preparation and resolve that would converge in Oslo at twilight on July 17, 1979, arose in improbable springs located across the world. One began in a desert. In 1978 the Arab emirate of Dubai, population 207,000, which rests on a sheik's ransom of oil at the south end of the Persian Gulf, abandoned the idea of hosting a major international track meet in its extreme climate, instead, it donated $400,000 to the International Amateur Athletic Federation (IAAF) to use for coaching clinics. In return the IAAF agreed to stage eight world class "Golden" events in Dubai's name in selected meets over the next three years.
The first was a hurriedly arranged Mile in Tokyo in September 1978. England's Steve Ovett won a tactical race with a 300 meter kick in 3:55.5. Steve Scott of the U.S., by then exhausted from a year of almost uninterrupted racing, finished fourth in 4:01.1. It would not be too strong to say that Scott's first thoughts after the race were of revenge. "The IAAF said then that there would be another Mile in July, in Oslo," says Scott. "I wanted Ovett again, when I was ready for him. I knew that he only races a few places each year. I figured how could he not show up for this race next season, to defend his title?"
So Scott sat down with Len Miller, his coach at the University of California at Irvine, from which Scott had just graduated, and planned a training and racing schedule that would have him at a peak in mid-July. Now he would not have to run one or two races every weekend, as a member of a collegiate track team must. It would be the year before the Olympics. "A year to run with the idea of finding out what you can do," said Scott.
In New Zealand that winter, John Walker knew what he could do—or, at least, what he had once done. He was the 1976 Olympic 1500 meter champion and the world record holder in the Mile, having run his historic 3:49.4 in 1975, in Goteborg, Sweden. Walker's fear now was that never again would he approach that time.
Thickly muscled at 6'1" and 170 pounds, Walker had seemed to usher in a new age of Mile racing. When he won in Montreal and Cuba's 6'2", 185-pound stallion, Alberto Juantorena, ran the 800 meters there in a world record 1:43.5, the day of the whippet-slender middle-distance runner, like the USA's Rick Wohlhuter, was judged over. But after the Olympics, Walker's stiff, heavily fibrosed legmuscles began to betray him. For years he had run with inflamed Achilles tendons, but now he experienced a gripping pain in his calves whenever he ran longer than 30 minutes. The membrane surrounding his calf muscles was growing more rigid, keeping the muscles, which became engorged with blood under the strain of running, from expanding within their sheaths. Surgery was only partially successful.
Rather than consider retirement, Walker changed his training. If he could only run half an hour at a time, then he would run one hell of a half hour. And he would do it as many as three times a day. In January 1979, after a few months of this work,he decided to test himself at the Muhammad Ali indoor meet in Long Beach, Calif. After following Paul Cummings' aggressive pace, Walker burst past him on the last lap and set a world indoor 1500m record of 3:37.4. He was enormously relieved, because he had almost unconsciously come to embody the wishes of his 3,000,000 running-mad countrymen.
"There are still pressures from holding the world record," he said. "The Mile has become a traditional event, and everyone has some vague knowledge of it. If you broke 4 minutes you were a pretty good runner, but once I got under 3:50, people began oohing and gurgling."
Walker, once thought by some rivals to be amusingly transparent in his self-regard, was maturing. "Now that I have the gold medal and the world record, I think I get a richer kind of enjoyment from my running," he said. "In 1975 and 1976 I was striving for perfection. Now I go out to race still with a will to win, but not with the inclination to set records."
When an invitation to run The Golden Mile in Oslo was forwarded to Walker, he was quick to accept. 'The instincts are the same," he said. "I'll take on anyone, anywhere."
Continue reading at: si.com/vault/
Mile WR progressions HERE.
Full race video with interviews