The Mile Has No Problem Surviving in a Metric Age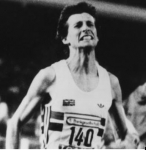 July 19, 1981
A record-breaking performance... would solidify the Mile's stature as one of sport's most exciting spectacles... Who would have got excited about the 4 minute 1600 anyway?
By Craig Masback, The New York Times
Steve Ovett stood with hands on hips in silent contemplation of the men's 200 meters. As Dwayne Evans of the United States swept around the turn on his way to victory, Ovett smiled, perhaps feeling that he would finish his Mile race later in the evening in a similar fashion.
Two hours later, Ovett had won, but he had failed in his effort to break his world record of 3 minutes, 48.8 seconds. Now he smiled again as he answered questions concerning the fast early pace. No, running the first half-mile in 1:51 was not the best way to try to break the record, he agreed. Yet, it was the smile that told the most. Ovett had come to Lausanne, Switzerland, not merely to take a shot at the world mark but to run 3:45, a time he would have achieved had he finished with his usual burst of speed. Instead, he had run ''only'' 3:49.66.
Now that spring has sprinted into summer, the fancy of some young men has turned to Miling. And, just when it seemed that metrification would deal a death blow to races at traditional ''English'' distances, a summer season of exciting Mile races has emerged over the last three weeks. Running in major European capitals where the Mile is about as familiar to the public as the dekameter is in the United States, Milers have finally earned the descriptives so routinely linked to their event - that is, the ''miracles,'' the ''magic'' and the ''dreams'' finally seem real.
In the last three weeks, no fewer than four attempts have been made on the Mile record. Although the record has remained intact, the results of the races have required a total readjustment in traditional thinking about what constitutes a good Mile time and have led to renewed interest in the Mile by Europeans. The 4 minute Mile no longer rates as even mildly respectable. And to be among the best, you must break 3:50.
Continue reading at: nytimes.com