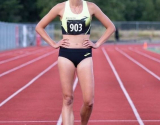 December 15, 2020
What keeps me going is the fact that there are so many more goals to achieve beyond winning a national title and that I don't think that I'm even close to my ceiling.
By Phil Patterson Jr., Heel Striker
Karisa Nelson grew up in Brewton, Alabama, a small town of only 5,200. She ran her first...
Read More
comments