Past champions, rising stars headline USA Mile Road Championship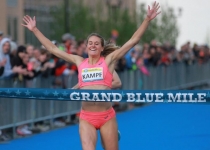 August 21, 2020
Drake Blue Oval Showcase presented by Mediacom hosts title tilt with stadium finish; $10,000 prize purse
From Drake Relays
Despite a four-month postponement, Des Moines will reprise its role as the host of the USA Track & Field 1 Mile Road Championship when the nation's best Milers compete for a national title and $10,000 on Saturday, August 29.

As part of the Drake Blue Oval Showcase presented by Mediacom, the USATF 1 Mile Road Championship will move from the streets of downtown Des Moines to the Drake campus. The title races will start and end on two iconic Drake landmarks with runners beginning their pursuit of a national championship on Drake's Painted Street and finishing on Jim Duncan Track inside Drake Stadium.

"It's an honor to bring the top American Milers back to Central Iowa to race for a National Championship," said Blake Boldon, the Franklin P. Johnson Director of the Drake Relays. "We're excited that this year's USATF 1 Mile Road Championship course will showcase the Drake campus and its vibrant neighborhood to the competitors and our television audience."

The men's and women's fields feature defending and returning champions and lineups eager to add 'National Champion' to their resume.

Last year's men's champion Tripp Hurt returns to Des Moines to defend his title after posting a road personal best of 4:04 to outkick the 2019 field. He comes to Des Moines after recording a PR of 3:36.83 in the 1500m earlier this month and has run as fast at 3:56.02 in the Mile on the track.

The women's race features three past champions, including Heather Kampf, a four-time champion in the event, including wins in Des Moines in 2014-16. She finished second in last year's race in Des Moines and will be challenged by fellow USA Road Mile titleholders Emily Lipari and Katie Mackey.

Lipari claimed the national title in 2018 in Des Moines, while Mackey was the 2017 winner. All three own road Mile personal bests of 4:24 or better.

The men's race will include local talent Erik Sowinski returning to Des Moines. The former University of Iowa standout has established himself as one of the nation's top 800 meter runners. Jake Edwards also returns after winning the Mile on the track at the 2019 Drake Relays. Sub-3:50 Miler and Blue Jean Mile world record holder Johnny Gregorek will also challenge the field unencumbered by the restrictions of denim.

The competition for the USA 1 Mile Road Championship is set for 11:30am on Saturday, August 29, with the men's race followed by the women's race. The two races will open competition at the Drake Blue Oval Showcase presented by Mediacom with two more hours of track & field action to follow inside Drake Stadium.
The overall $10,000 prize purse goes 5-deep: $3000 (national champion), $1000 (national runner-up), $500, $300 and $200.

WOMEN'S FIELD
Alex Wilson
Heather Kampf, 4-time road Mile national champion
Maddie Alm
Dani Aragon
Sinclaire Johnson
Emily Lipari, 2018 national champion
Karisa Nelson
Megan Mansy
Katie Mackey, 2017 national champion
Marisa Howard
Brette Jensen

MEN'S FIELD
Abe Alvarado
Sam Prakel
Tripp Hurt, defending national champion
Erik Sowinski
Joe Klecker
Johnny Gregorek
Colby Alexander
Graham Crawford
Jake Edwards
Nick Harris