Samford's Karisa Nelson finds footing as one of nation's elite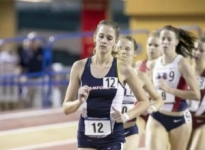 March 10, 2017
Junior seeded 13th in Mile for weekend's NCAA Indoor Track & Field Championships: "I want to win a national championship title before I graduate. Then after I graduate I want to run professionally, and of course, every pro's dream is to run in the Olympics."
By The Samford Crimson
Long distance runners often do not get the attention they deserve. Their hard work and dedication is overlooked compared to the sports broadcasted on TV every day. However, one distance runner has captured the attention of the running world—and deservingly so. Her name is Karisa Nelson.
Nelson, a junior, is a native of Brewton, Alabama. Before she was a runner she was a competitive swimmer. She said she hated the sport, so her parents made a deal with her: She could quit swimming as long as she promised to try long distance running. She ran her first 5K when she was 8 years old and fell in love with the sport.
"I love running because you get to be outside and wherever you travel you can just go for a run and see more of the place you're at, and you don't need anything but a pair of shoes," Nelson said. "You get to test yourself mentally and physically."
Continue reading at: www.samfordcrimson.com