The Best Mile Moments of 2017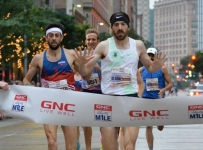 December 21, 2017
Record prize money awarded exceeds $500,000, Blankenship & Lipari win BBTM Grand Prix Tour titles, one more U.S. HSer sub-4, the brothers Ingebrigtsen make history, greatest women's Mile ever and more highlight year
By Ryan Lamppa, Bring Back the Mile
Since the Bring Back the Mile launch in January 2012, the Mile's profile and footprint, without a doubt, has been enlarged thanks in large part to the athletes – high school, collegiate, professional and masters – rising to the occasion as well as the dedicated coaches and the events showcasing the iconic distance. The year 2017 has further added to the Mile's elevation & celebration and The BBTM Effect as the impressive and historic annual best of snapshot below summaries and salutes. Go Mile!
FAST FACTS
For the 5th consecutive year, Mile event prize money increased with a 9.9% gain from $492,050 in 2016 to a record $540,650 in 2017. Since BBTM's 2012 inception, prize money at Mile events has grown by more than $400,000 or 289%!
This year at least 36 inaugural, competitive Miles were launched, awarding more than $30,000 in new prize money.
For a record 3rd straight year, at least one American high school boy broke 4 minutes: Reed Brown (3:59.30); bravo, Reed! Since 2015, five U.S. high schoolers have gone sub-4, half of the overall total of 10 since 1964.
This year, 17 U.S. men clocked their first sub-4 minute Mile on the track, and thus, for the 12th consecutive year, the first sub-4 U.S. annual number again hit double digits with an average of 22 first-timers since BBTM's 2012 launch (1957-2011 average was only approximately 7 per year).
Three U.S. women recorded their first sub-4:30 track Mile in 2017, and since 2012, first-time U.S. women have averaged 6 per year compared to 1 per year (1975-2011).
Worldwide, 86 women (a record 47 U.S.) went sub-4:36, the most over the past 6 years (77 individuals last year, second best).
In 2017, Americans Ben Blankenship and Kyle Merber clocked the most track sub-4s with 5 each, while Kate Grace (USA), Rachel Schneider (USA), Linden Hall (AUS) and Nicole Sifuentes (CAN) had the most sub-4:30s, with 2 each.
The 4th edition of the Bring Back the Mile Grand Prix Tour showcased 5 top U.S. Mile races with a Tour prize purse exceeding $115,000. Rio Olympian Ben Blankenship and Emily Lipari earned the #Tour2017 crowns, winning three and two events, respectively.
Boston Mile bash – February 10
At the BU David Hemery Valentine Invitational, the top three women – Shelby Houlihan, Colleen Quigley & Rachel Schneider – set personal records in 4:24.16, 4:24.88 & 4:25.62 to become the #6, #8 and #9 fastest U.S. women indoors all-time.
Wanamaker Mile magic – February 11
At the 110th NYRR Millrose Games' iconic Wanamaker Mile held in the NYC Armory, Sifan Hassan of The Netherlands won the women's race in a meet and national record 4:19.89 (#4 woman all-time indoors). The world leader beat Americans Kate Grace (4:22.93 personal record and #8 woman all-time / #4 U.S. all-time) and defending champion Shannon Rowbury (4:23.05). A record nine women also went sub-4:30 in the same indoor race.
In the men's race, rising star Eric Jenkins closed with a flourish over the final lap to break the beam in a world leading 3:53.23 (and #10 U.S. male all-time indoors). Rio Olympics 800m bronze medalist Clayton Murphy was runner-up in 3:54.31 with Kyle Merber, who pushed the penultimate lap, took third, clocking 3:54.67.
NJ*NY Track Club shatters indoor 4 x Mile world record – February 17
At the inaugural Artie O'Connor College Invitational hosted by the Armory in New York City, the NJ*NY Track Club team of Donn Cabral, Ford Palmer, Graham Crawford & Kyle Merber shattered the 4 x Mile indoor world record with their collective 16:12.81 (4:03 average). Previous record was 16:16.67 by the New York Athletic Club in 1993.
Cheserek captures collegiate indoor Mile record – February 26
On the ultra fast Boston University track, University of Oregon's Edward Cheserek edged Kyle Merber, 3:52.01 to 3:52.22. Cheserek broke the NCAA indoor record (previous mark, 3:52.88, Lawi Lalang (Arizona), 2014) as well as the Kenyan indoor record (previous mark, 3:52.63, Silas Kiplagat, 2012), while Merber became the 6th fastest American indoors and his NJ*NY Track Club teammate Johnny Gregorek, who finished third, the 10th fastest (3:53.15).
Gregorek and his father John (3:51.34 PR) also became the fastest father-son Mile combo with a 3:52.25 average, while Billy & Liam Dee joined the exclusive father-son sub-4 club, now at only 10 combos, when Liam clocked 3:58.19 (the second British pair).
In addition, 11 men went sub-4 to tie for the most indoors in the same race (also Boston Indoor Games 2006). What a day for the Mile in Beantown!
Blankenship blasts sub-4 to win USA Indoor Mile title at altitude – March 5
At the USA Indoor Championships in Albuquerque, NM, 2016 Olympian Ben Blankenship won his first indoor title with a convincing 3:59.22 Mile (#6 individual all-time at altitude), while rising star Cristian Soratos secured the runner-up spot with his 3:59.56 (#8 individual AT @ altitude).
Cooper Teare touches sub-4 – April 14
At the Mt. SAC Relays in Torrance, CA, senior Cooper Teare clocked an unchallenged 4:00.16 Mile, just missing sub-4, to become the 4th fastest U.S. prep ever in a high school-only competition.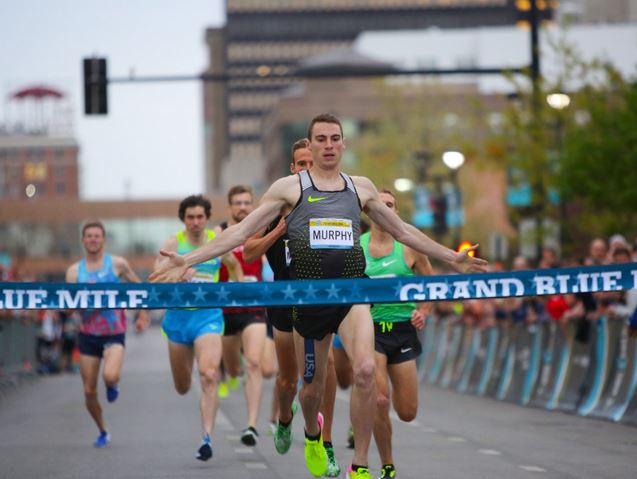 Murphy, Mackey USA 1 Mile Road Champions – April 25
At the Grand Blue Mile in Des Moines, site of the USA 1 Mile Road Championships, 2016 Olympic bronze medalist Clayton Murphy (left) kicked to victory in the men's race, while Katie Mackey earned the upset victory on the women's side with her 4:37. Each national champion earned $5000, while Murphy also took home a $2500 course record bonus with his 3:59.96.
He ain't heavy he's my sub-4 brother – May 27
The Prefontaine Classic in Eugene, OR, like past editions, attracted deep international fields for the International and Bowerman Miles, and again, the races did not disappoint with world leading performances, 3 men under 3:50 and 25 men overall clocking sub-4, but the story of the meet was, for the first time (and on the same day!), three brothers – Filip, Henrik & Jakob Ingebrigtsen from Norway – recorded sub-4 minute Miles, 3:53.23, 3:53.79 and 3:58.07, respectively. Jakob, age 16, also become the youngest ever to go sub-4. Incredible & amazing!
And 19 days later at the Bislett Games in Oslo, Jakob won the Mile, shattering his old mark with an even more impressive 3:56.29. #Wow!
Reed Brown 10th U.S. HSer sub-4 – June 1
At the Festival of Miles in St. Louis, high schooler Reed Brown, 18, from Southlake, Texas blazed a sub-57 final lap to break the coveted sub-4 minute Mile mark, clocking 3:59.30 to finish third overall against an Open field. Brown became the 10th U.S. HSer to record a sub-4 (and now the 4th fastest U.S. HS individual all-time). In addition, this was 5th U.S. HSer sub-4 minutes in the past 2 years; call it the BBTM Effect!
Vaughn, Gregorek third at USA Outdoor Champs – June 24
At the USA Outdoor Championships in Sacramento, Robby Andrews beat reigning Olympic champion Matthew Centrowitz, 3:43.29 to 3:43.41, in the metric Mile, while 2016 Olympic bronze medalist Jenny Simpson four-repeated. But in both 1500 races, the third place finishers were the story: Sara Vaughn, 31, mother of three, and rising star Johnny Gregorek, as both closed with a determined flourish to punch Team USA tickets to the World Championships hosted by London in August.
Simpson second fastest American woman! – July 9
The Müller Anniversary Games Mile in London produced the deepest women's results ever as the best marks-for-place were set from 4th to 14th with Americans Jenny Simpson, Kate Grace & Stephanie Garcia finishing 5th, 10th and 11th, respectively, and clocking 4:19.98, 4:24.01 and 4:24.68 to become #2, #8 & #10 U.S. women all-time outdoors. Kenyan Hellen Obiri also set a meet record and national record of 4:16.56 (#5 woman all-time) to lead 5 women sub-4:20 for the first time ever. Brava, the greatest women's Mile ever!
Simpson strikes silver at the World Championships – August 7
At the World Championships in London, Jenny Simpson won a 1500m silver medal with an incredible closing finish, clocking 4:02.76, just behind Faith Kipyegon. This was the Rio Olympic bronze medalist's third medal at the Worlds (also, Daegu 2011 gold and Moscow 2013 silver). The sterling hardware was also a bit of redemption for her non-medal disappointment at the London 2012 Olympics. Brava, jammin' Jenny!
Memphis sees first sub-4 Mile – August 26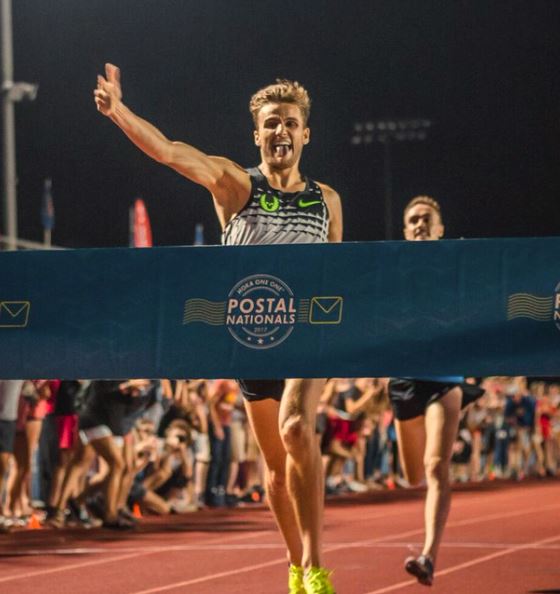 Memphis, Tennessee had not seen a sub-4 minute Mile until Nick Dwyer and the Memphis Youth Athletics put together the inaugural Ed Murphey Mile with $10,000 in prize money (in just 4 weeks). Emerging Mile star Craig Engels (right) made history by breaking the beam in 3:58.35, followed by Eric Avila (3:58.92) and Travis Mahoney (3:59.42), and the expectant crowd went wild at the Christian Brothers High School track!
Simpson, Willis record wins at New Balance 5th Avenue Mile – September 10
Olympic 1500 medalists Jenny Simpson raced to her record-extending 6th win – matching the event-record time of 4:16.6 in the process – and New Zealand's Nick Willis took the tape in 3:51.3, tying the men's record with his fourth event title at the New Balance 5th Avenue Mile. Overall, in same race, a record 19 men broke the sub-4 minute standard, while a record 6 women went sub-4:20 in the Big Apple!
In addition, at the 37th edition in 23 heats, there were a record-number 7,664 finishers, the world's largest Mile.
Inaugural Great Alaska Mile Series – September 13 & 16
Trevor Dunbar, the first sub-4 native Alaskan, and his parents Marcus & Kathleen created the inaugural Great Alaska Mile Series to bring the iconic distance to The Last Frontier, and they were richly rewarded for their efforts. The first race in West Anchorage produced the first sub-4 minute Mile outdoors in the state, Kyle Merber's 3:59.36 with Rio Olympian Ben Blankenship right behind in 3:59.67. Three days later, the next track race in Kodiak, the Dunbar's hometown, saw Blankenship brave cool, rainy conditions to set the Alaska state Mile record, indoors or outdoors, clocking 3:57.85. Bravo all!
Less is more – December 7
At the New York Armory, Gary Patton, 71, from Rock Rapids, IA set an age group 70-74 indoor Mile world record, clocking 5:29.81 to break the previous 30-year-old mark by 2-plus seconds. Patton does low mileage, 15 miles per week with strength and cross training. His time age-grades to a 3:58.5 Mile!
Another best moment of the year was how the sport and beyond rallied around Gabe Grunewald (below, left) and her inspiring cancer fight. Go Gabe!
Saddest moment: the passing of David Torrence (below, right) on August 28. David, a Rio Olympian and 3:52 Miler, was one of the first professional Mile athletes to support and endorse Bring Back the Mile, and he appeared in our launch video where he extolled the importance of the sub-4 minute Mile beyond just history and time. On September 6, the HOKA ONE ONE Long Island Mile honored David by designating the professional races as the David Torrence Mile. Shine on David, we miss you.