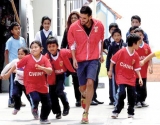 October 18, 2020
In honor of her late son David, an Olympic runner, Malibuite Bianca Torrence is working to realize his dream of bringing the sport to a new generation.
By McKenzie Jackson, Special to The Malibu Times
When Bianca Torrence goes for a run, there is often an unseen force propelling her forward.
...
Read More
comments