Memorial Service Held for Olympian David Torrence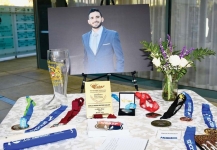 October 14, 2017
"He was like a magnet—both impressive and hilarious... and always gave a gutsy performance on the track."
By Jimy Tallal / Special to The Malibu Times
David Torrence spent a good part of his 32 years doing what he loved—running. He started running in ninth grade and continued running right up until the last day of his life on August 28. Along the way, he achieved an impressive list of world and national track records, competed in last year's Rio Olympic Games and inspired his fellow runners.
His memorial service last Saturday, held at the Malibu Jewish Center & Synagogue, was filled to capacity with family and friends from all over the country. The memorial began with blessings by Mati Waiya, local Chumash ceremonial leader, stories from dozens of people and touching videos compiled by his sister Sylvie Torrence.
Torrence was a 5-time USA Track & Field national champion; he also holds American records in the indoor 1000 meters and the outdoor 4x1500m relay. In addition, he holds the world record in the 4x800m relay. In 2016, he was an Olympic finalist in the 5000m.
Because Torrence's mother is from Peru (Malibu resident and Realtor Bianca Torrence), in his later years he became interested in representing that country in track events. As a result, he holds the Peruvian National Record in the 1500m, Mile and 5000m.
Even this year, at the age of 32, Torrence was a qualifier in the London World Championships 1500m event, and in 2017 was ranked #9 in the Mile outdoors by the International Association of Athletics Federation (IAAF). His Mile personal record was 3:52:01, set in 2012, the fastest American that year.
Continue reading at: malibutimes.com