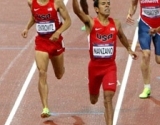 August 07, 2012
"My kick has always been there. Ever since I was maybe 12-years-old, I've had this major gift from God. I guess sometimes it's just been kind of overlooked."
By David Leon Moore, USA TODAY
LONDON – The race was run by someone who a day earlier had been kicked out of the Olympics. That alone...
Read More
comments