Battle scars fail to derail Matthew Centrowitz in Olympic 1500 meter semifinal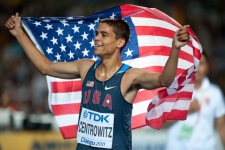 August 06, 2012
Ex-UO star moves on to 1500 final but Wheating does not
By Curtis Anderson, The Register-Guard
LONDON — Matthew Centrowitz is such an intuitive racer that he never seems to find trouble on the track.
On Sunday, however, during the semifinal heats of the 1500 meters at the London Olympics, the 22-year-old former Oregon standout emerged from the race with a few fresh spike wounds on his legs.
He was still able to earn an automatic berth in Tuesday's final with a fifth-place finish at 3 minutes, 34.90 seconds, but he knows the road only gets tougher with each additional round.
Last year, Centrowitz surprised even himself when he won a bronze medal in the 1500 at the World Championships.
This time, there will be no such surprises.
Continue reading at: registerguard.com