Runner Leaves College, and Everyone Else, Far Behind in Wanamaker Mile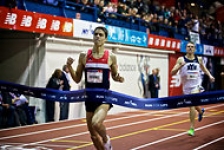 February 11, 2012
By Ryan Goldberg, New York Times
NEW YORK - At the 105th Millrose Games, which were held at the Armory for the first time on Saturday, Matt Centrowitz showed why he is considered one of the rising stars of American middle-distance runners with an electrifying victory in the Wanamaker Mile.
Matt Centrowitz held off Miles Batty and broke an Armory record at the Millrose Games.
Though a Millrose Games rookie, Centrowitz, 22, could not slip under the radar. A seven-time all-American, he decided to turn pro in November and skip his senior year at Oregon. Coming in the wake of his bronze-medal performance in the 1,500 meters at last year's world championships, Centrowitz was the Wanamaker favorite.
Continue reading at nytimes.com