Fast Genes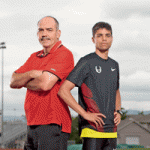 July 30, 2012
An Olympic medal eluded his dad in 1976. Today, Matthew Centrowitz aims to fulfill the family dream.
By John Brant, Runner's World
Several times a week, the most accomplished father-son duo in the history of middle-distance racing engages in a transcontinental telephone call, continuing a conversation about running that began when Matthew Centrowitz was in high school. His father, Matt, 57, was the head track and cross-country coach at American University in Washington, D.C., a position he still holds. "It was about an hour's drive from our house to the campus, and on weekends I'd ride along with my dad when he drove in to work," the younger Centrowitz recalls. "We talked running nonstop. My dad has seen it all. He would talk about all the ways that the sport can go right—and wrong. But mostly I remember Dad communicating a passion for running. I always loved those car rides." This month, Centrowitz, 22, will look to do something that no American—including his dad, a two-time Olympian—has done in 104 years: win a gold in one of the Olympics' premiere track-and-field events, the 1500 meters.
Continue reading at: runnersworld.com