Anne Arundel running star to compete at London Games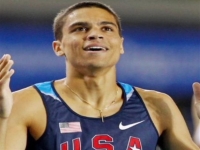 July 20, 2012
'Centro-nation' signs pop up in Arnold for Matthew Centrowitz
By WBAL-TV 11
ARNOLD, Md. - A star runner from Anne Arundel County will make his Olympic debut next month -- and his mother can't wait.
Matthew Centrowitz, 22, will be compete in the 1500-m track and field event on Aug. 3 with his parents cheering him on from the stands.
Signs that read "Centro-nation" have popped up across the Centrowitz's neighborhood in Arnold as a community is ready to cheer a hometown star in a big way.
Continue reading at: wbaltv.com