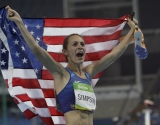 September 14, 2016
"I had a period of time to let the Olympic experience settle on me. When everyone is saying, 'This is such a big deal; we are so excited for you,' I feel like I had a better sense of, 'This is a really big deal.'"
By Stephen Ruiz, Orlando Sentinel
It has been nearly a month since Jenny...
Read More
comments