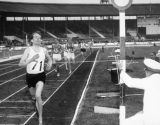 July 29, 1957
"It was a fabulous race, a pleasure to run in. I shall dream about it for years."
By John Lovesey, Sports Illustrated
The six straining runners at the top of this page (there are really seven) are Mike Blagrove, an Englishman; Stanislav Jungwirth, a Czech; Derek Ibbotson, English; Ron Delany,...
Read More
comments