Ben Blankenship: "I'm a man of The Mile"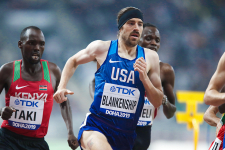 February 14, 2021
"I have always said, I'd rather run the hardest race right away than pick my way through it. I've always kinda liked to run those gauntlets and kind of find myself in the harder heats if possible."
By Sieg Lindstrom, Track & Field News
"I wake up every morning and remind myself: 'I don't have to do this, I get to do this.'" So reads the pinned tweet atop Miler Ben Blankenship's Twitter feed from August 2018. Talk with the 32-year-old Rio Olympian as he readies for another run at the rings and his sincerity in that sentiment comes through, even-keel and firmly directed toward the Olympic Trials in June.
Viz his gratitude for his hardworking life as an elite runner, Blankenship put his money where his mouth is in January. He sponsored an indoor 8-lapper held at the American Track League II meet and it went off as the Ben Blankenship Women's Mile. Can you think — off-hand — of another active athlete doing something like that?
Blankenship just felt it was high time one should. "I have a lot of opportunities and made a lot of good decisions, I think, in my athletic career and I was fortunate enough to be able to sponsor it," he says. "I look at track & field — and I think it's easy and I've done it probably more than anybody — to criticize the sport publicly and privately. And something that really resonated with me is what Wallace Spearmon said.
"He said, 'You know, if you're not doing anything positive, what are you doing?' I fortunately had the ability to call up [ATL series director] Paul Doyle and say, 'What can I do? What can I do to help?' And really the easiest thing is money. Money makes these events better. So we came to an agreement and I was super excited about being able to sponsor the meet and kind of get things rolling and make people kind of think, you know, 'If Ben Blankenship can do it, who else could do it?'"
Honoring his craft through his contribution, Blankenship — who germinated his plan while watching ATL I just a week beforehand — used 45 seconds of meet broadcast time on a brief, beautiful video celebration of "the beauty of track & field." He teamed up with Oregon track alum Travis Thompson, and Thompson's Elevation 0m digital production company to film his atmospheric paean at nearby Mt. Pisgah, a favored training venue just outside Eugene.
Says Blankenship, "Travis had like a 12-hour turnaround for it and he was able to put it all together. It's just incredible work. So hats off to Travis for putting that together."
Third at the '16 OT after leading at the bell — and 8th in the Rio final — Blankenship was the fastest non-qualifier in the semis at the '19 World Champs. Lest you think Blankenship, who has trained steadily with coach Mark Rowland and the Eugene-based Nike OTC squad since '13, may have signaled a move upward in distance when he wrapped '20 with his first-ever track 10,000, guess again.
"I definitely am, for sure thinking about the 15," the '12 Minnesota grad assures. "I'm a man of the Mile, a guy that really likes the 15. I take to it really well, but there's a lot of events that I've always wanted to do. It's hard to fit a 10K into a schedule. It takes a long time to recover from it and it's a tough race. And the off year gave me that opportunity to get on the track and try something new."
Twenty-five laps in the end-of-August Sunset Tour II last summer was new, indeed, to Blankenship's range on the oval, and he churned through it in 28:08.20 for 5th behind winner Edward Cheserek's 27:42.53
Continue reading at: trackandfieldnews.com