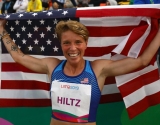 May 07, 2020
"I'm definitely now very driven to just kind of do it all over again, make the Olympic team and then make the final of the Olympics."
By Sieg Lindstrom, Track & Field News
What a difference a year can make. That's true by the truckload when 2019 and '20 are the benchmarks and Miler Nikki...
Read More
comments